Ultra-clear Vision
— GAOMON Unveiled a Brand-new 2.5K Pen Display
15, July 2022 — GAOMON, a digital art innovation brand that understands young people better, launched a 16-inch pen display PD1610. The powerful combination of a 2.5K display screen and new-generation digital pen AP51 enables a sharper picture presentation , as well as a pen-on-paper drawing experience, and high expressiveness allowing digital artists to unleash their creativity more efficiently and conveniently on the pen display PD1610.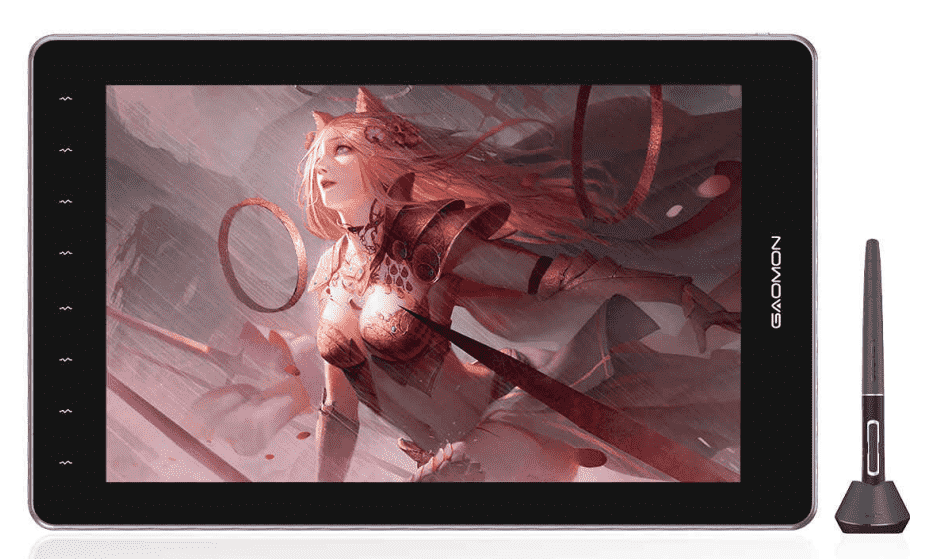 2.5K QHD+ vision, real display2.5K  vision, real display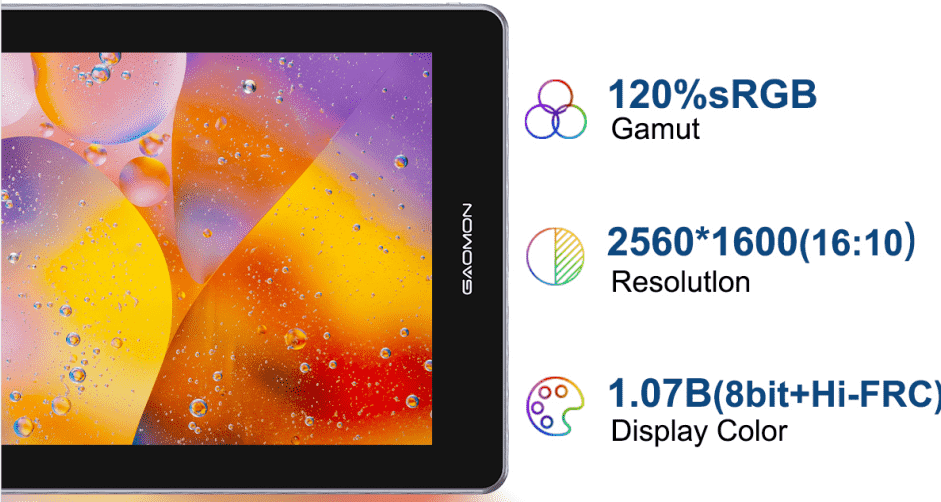 The biggest pain point for professional digital artists is that device performance may affect their creativity and work efficiency. GAOMON PD1610  pen tablet performs admirably in terms of resolution, color gamut, and display color, amongand others. The  16-inch screen provides a larger canvas, and the 16:10 aspect ratio together with a 16-inch screen offers more vertical screen space, enabling you to enjoy a wider field of vision and create artworks more comfortably. Furthermore, 2.5K resolution and 120% sRGB highwide color gamut ensures a natural color transition true color transition and reveal more details; in terms of color reproduction,  1.07 billion (8bit+Hi-FRC) colors werecan be  realized, making and the images effect  is more vibrant and dazzling.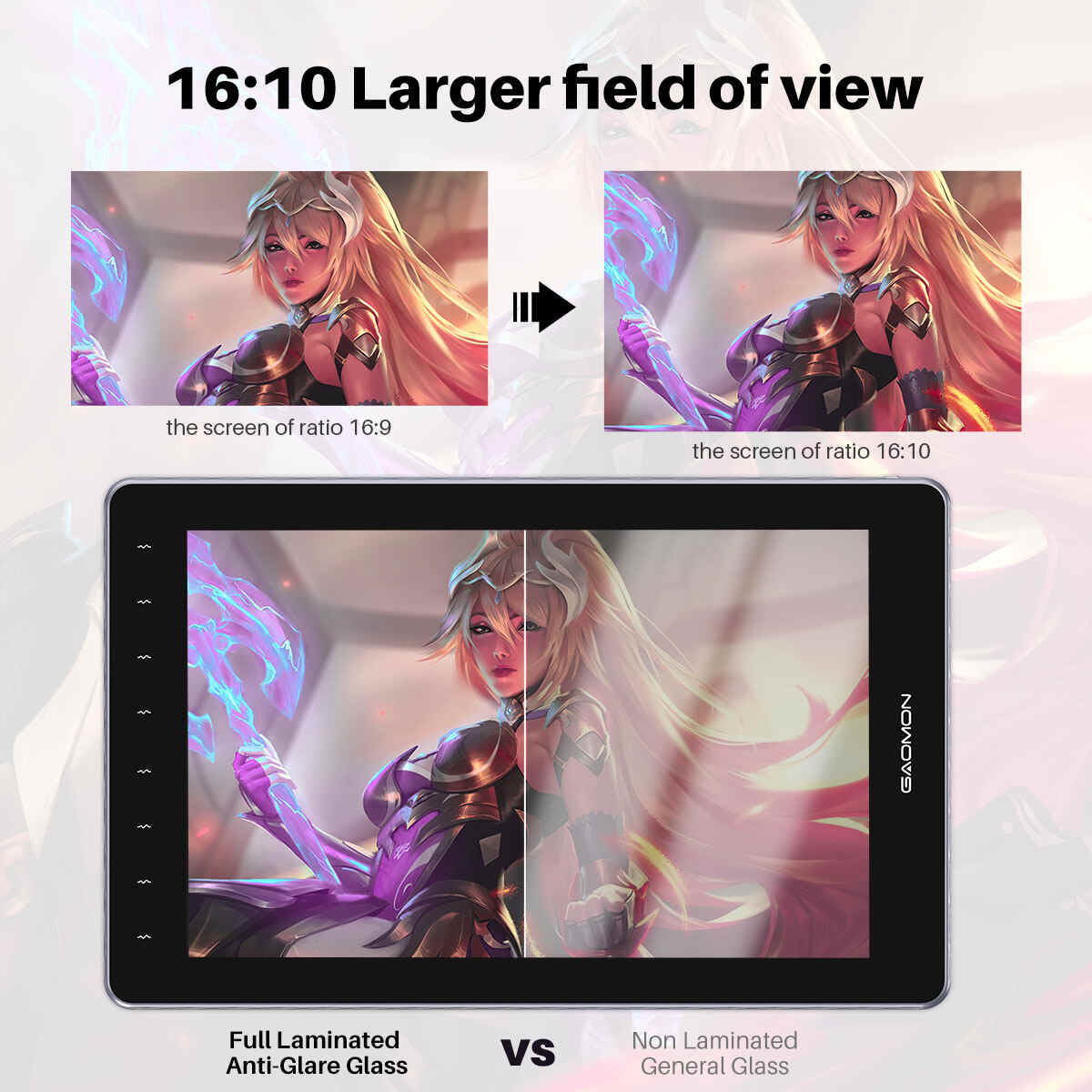 Additionally, the full lamination technology gets rid of bubbles inside the screen so that your  strokes will appear exactly on the screen as you intend. Meanwhile, an anti-glare glass is used to efficiently eliminate interference from ambient light and avoid eye strain during deep concentration tasks or work on a screen. The delicate matte texture helps replicate a natural pen-on-paper drawing experience. The 178° ultra-wide viewing angle brings an immersive visual creation  experience. You can freely describe the splendid vitality of the world of art and inspiration anytime with GAOMON PD1610, anywhere.
  Follow your heart to experience smooth creation
Pressure sensitivity plays a vital role in influencing the performance of a pen display. With 8192 levels of pressure sensitivity and ≥220 points per second report rate, GAOMON PD1610 together with the new-generation digital pen AP51 permits vivid and instant rendering of strokes and lines inputted.
The new-generation digital pen AP51 is also worth mentioning. The digital pen AP51 adopts GAOMON's latest pen technology and reduces the distance between the magnetic core and the tip of the pen to 3.5mm, providing more accurate pen strokes as well as a more stable drawing experience. In addition, the digital pen AP51 features tilt recognition and rotation sensing, reproducing exact details and variable widths of strokes. Moreover, not requiring charging or batteries, the digital pen AP51 is a smart choice for long-hour work.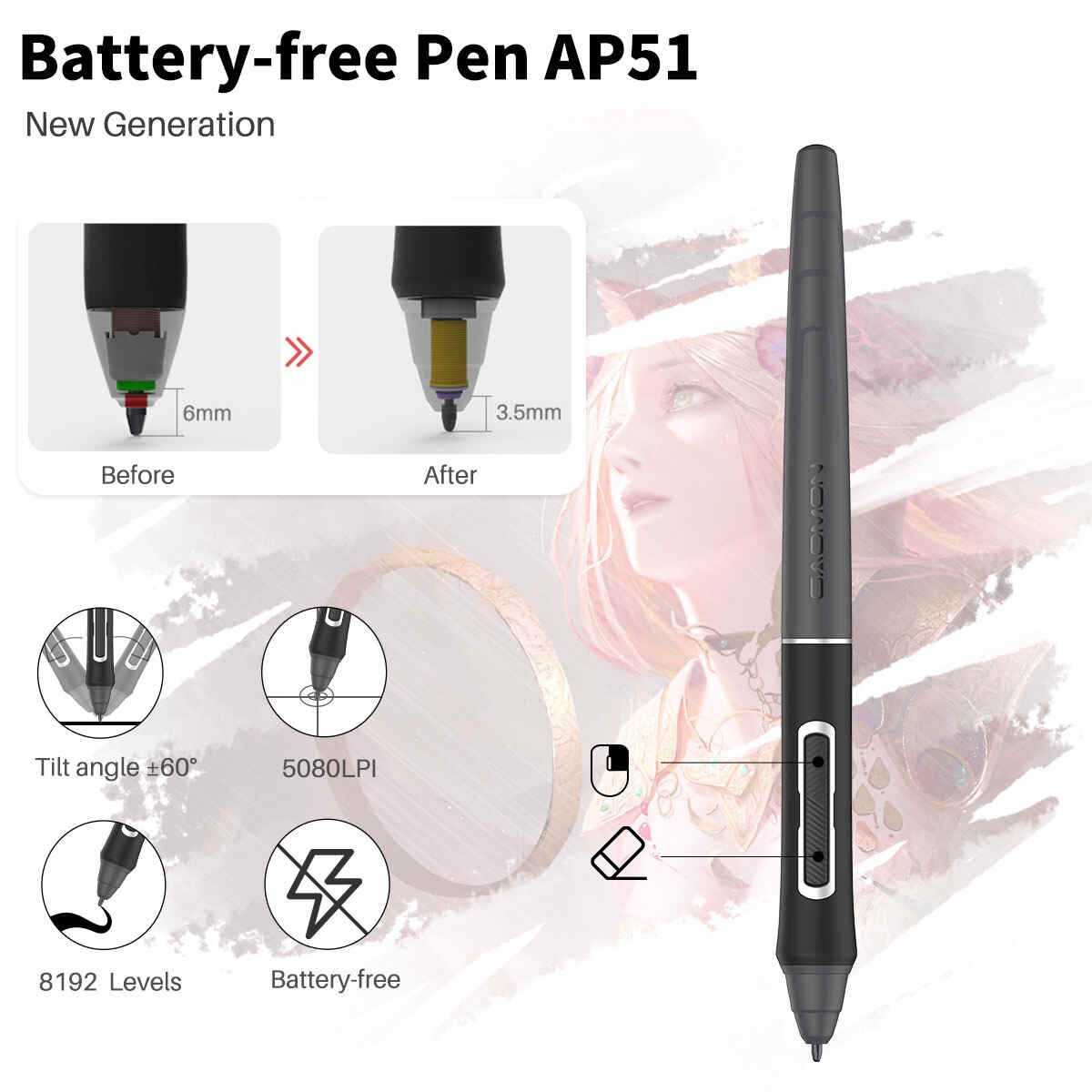 Flexible and convenient, born to boost work efficiency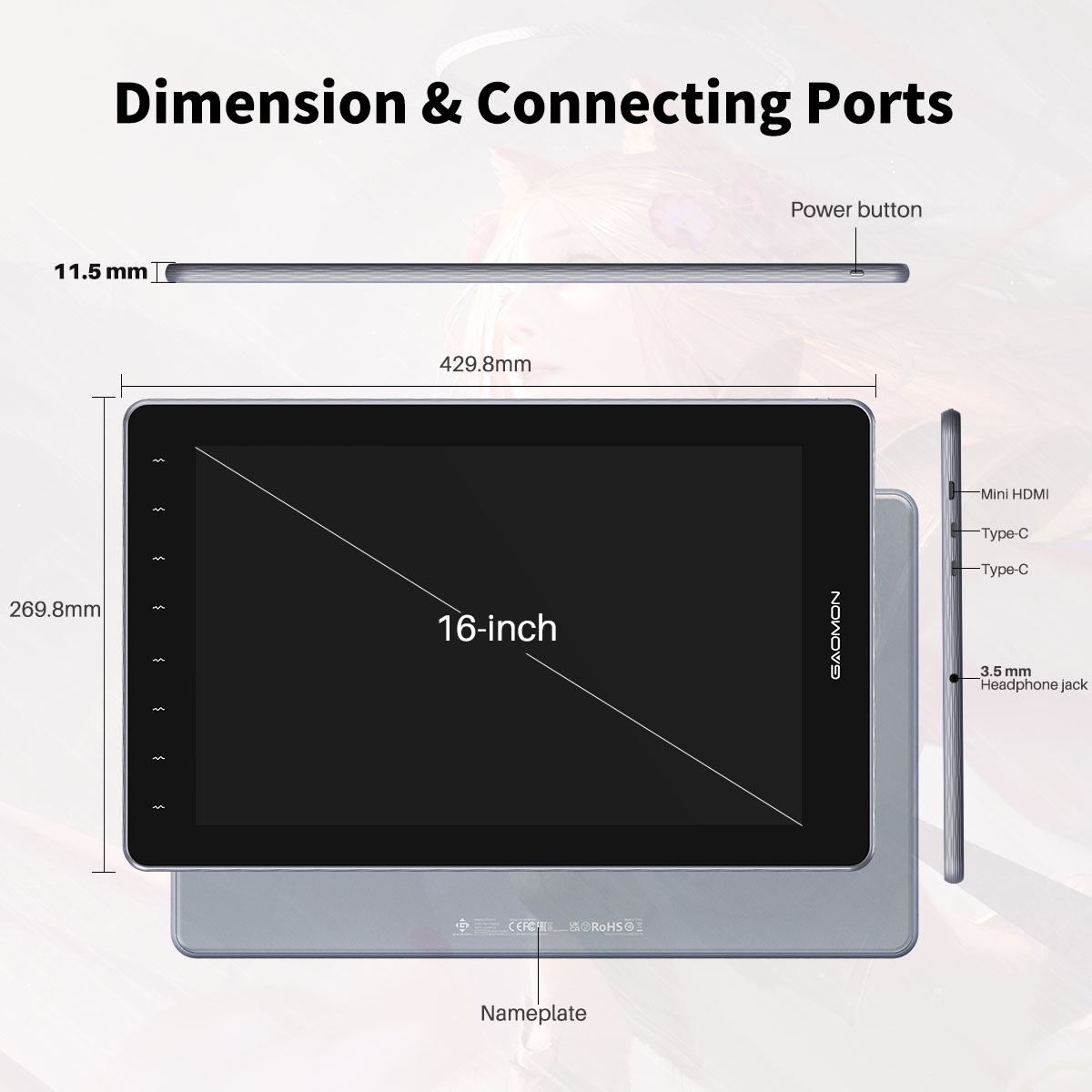 For fun-loving young people, GAOMON PD1610 will meet their expectations. Any device like a computer, Switch, Android phone or tablet, or PC can be linked thanks to dual Type-C ports and an HDMI port. Additionally, the 3.5mm headphone jack enables you to release creative energies to the rhythm of the music.
In addition, GAOMON PD1610 owns powerful compatibility. It is compatible with most mainstream design and drawing applications and can work seamlessly with devices running Windows OS, macOS, Android OS, and other operating systems, making it more convenient to create and fully unleash the limitless potential of creativity and imagination.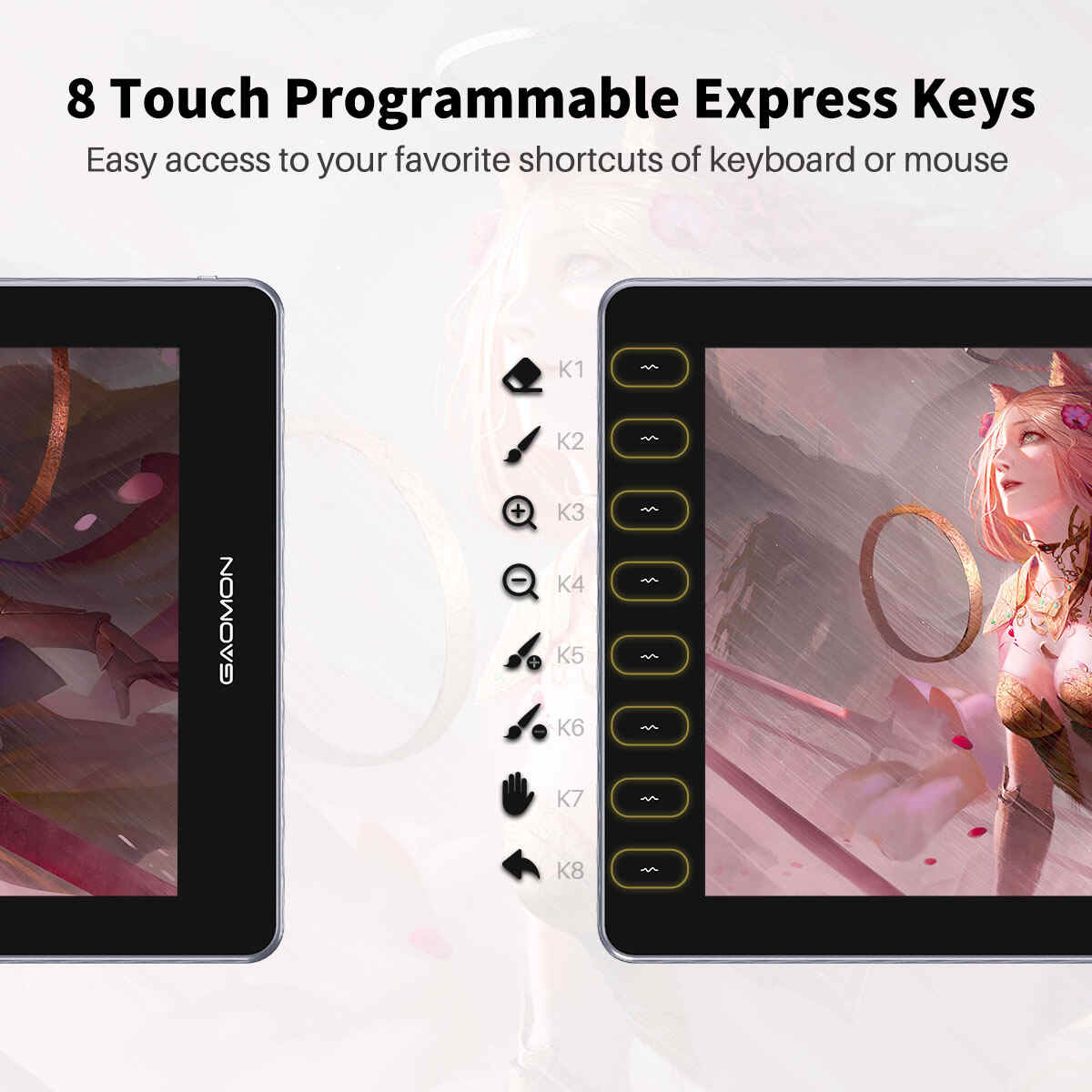 Furthermore, there are eight customizable touch keys on the left side of GAOMON PD1610, which are perfectly integrated with the surface glass of the screen. With just a light touch on the key, you can streamline workflow and optimize drawing efficiency effortlessly. With an aluminum alloy back case, GAOMON PD161 looks more stylish and offers a nice feel to the touch.
It is anticipated that the new generation of young people can explore more possibilities and the fun of digital creation with GAOMON PD1610. Its unique advantages can make you express yourself better and make inspiration traceable.
More Information About PD1610: https://gaomon.net/Pen_Display/PD1610.html
Purchase link:
GAOMON Japan store: https://store.gaomon.net/jp/products/PD1610
GAOMON Korea Store: https://store.gaomon.net/kr/products/PD1610
GAOMON UK Store: https://store.gaomon.net/uk/products/PD1610
GAOMON Germany store: https://store.gaomon.net/de/products/PD1610
GAOMON France store: https://store.gaomon.net/fr/products/PD1610
GAOMON US store: https://store.gaomon.net/products/PD1610
GAOMON Russia store: https://store.gaomon.net/ru/products/PD1610
For more information about GAOMON products, please visit GAOMON's official website at www.gaomon.net.