Express your idea on Glass, it is one kind of the art forms
Glass has been used everywhere on this planet. The art-based on the glass is also developed for thousand years. It is made into jewelry, glass vessels, glass architectures etc. Some artist also draws on it. Just on the panel glass, what art can you present? The common work you see maybe doodles drawn by fingers in the rainy day, the stained glass window in the church or paper-cut stuck on it.
But have you ever seen dynamic drawings painted on the plane glass? No no no, I'm not talking about reflection on the glass but moving paintings.
You may have heard or played the 360-degree interactive doodle that googles created to pay homage to the trailblazing French illusionist and film director Georges Méliès. On the day when it was released, all people from the world did drag that google doodle to see different angle creation. And here what I'll introduce to you cannot be dragged here or there but also shows you some kinds of the same effect. If you owned one piece of such paintings, when passing it, you'll see the images on the plane glass are moving.
These amazing works are produced by Jean-Pierre Weill who was born in Paris, France in 1954. The art form created by him is termed as vitreography by himself. Elements of the scene are isolated. They are drawn or painted on separate and suspended glass panes. They use the glass transparency to give the scene and its components amazing layered dimension effects. From different angles to see, its background, foreground, and ground will all interact differently. Then the still images on the glass will be given 3D dimension and life. Each painting includes several layers of glass separated by interior frames. "The depth" of interior frames "creates a game of hide-and-go-seek. Light and shadow create the illusion of movement," he wrote in one of his articles.
But how did Weill think out such method to realize this lively effect on the glass? That could date back to 20 years ago when he was struggling between sticking his dream of supporting his family as an artist or hunting a 9 to 5 job to raise his family? And one-day inspiration beat him in that morning when he was sitting in a chair. He told his thought his wife and they immediately bought the materials required home. After several weeks' practice, they did it successfully! Their 3D painting on the glass was born! His work had sold in hundreds of galleries and museum outlets throughout the U.S., Europe, and Japan. He also has worked for Disney and Coca-Cola to create original and limited-edition vitreographs.
I believe most of you are working hard to protect your artistic creation dream. After thousands of year's development, the artistic creation becomes not so easy. There are not enough lifestyle content for you to express. And if you want to get some achievement in drawing skills, there are always existing others who do better than you. When you decide to hone your sketch skill into consummate, you'll find someone has already draw sketch work that can overpass the high-quality pictures.
It looks like there is no other way for modern people to create art what worth of going down in the history. But why do you curb yourself in a paper? There are so many materials for you to create your work. Jean-Pierre Weill is a good example for you. You can scan through his drawing work which is so good to shake the earth.
[Click here to scroll through his work]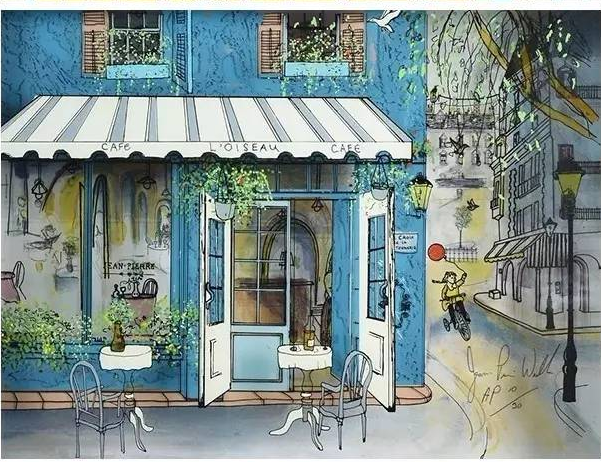 If he observed the traditional illusion method, he might not get such success. A simple change of creation medium made he an easy life. Now he retired and is trying to be an author at his old age. He published his first book titled "The Well of Being" which was self-titled "A Children's Book for Adults". In this book, he also used his drawing skill. The book is simple with illustrations which suggest a separate tale and with a simple line word to describe. Readers may get the courage to read their own life experiences into these images.
So you see. Nobody is going smoothly in their life. Blocks and troubles are always existed . But you should not give up your dream and hope. When you are too poor to support your life, maybe, a breakthrough idea will catch you!