Wacom has dominated the world of pen-display tablets for many years with their incredible devices. In this review, I'll be looking at the latest GAOMON device to consider how it measures up against the industry's leading brand.
If you're an avid follower of 3dtotal, you'll know this is not the first pen-display tablet I have reviewed. There have always been good, affordable alternatives to more expensive devices, and the latest GAOMON is no exception. Below, I'll be covering important things to consider if you're thinking of buying this latest offering.
The device has a 15.6-inch pen display, with a resolution of 1920×1080, and an eighty-eight per cent NTSC colour gamut range. That might not mean anything to you unless you've looked into this kind of thing before, but it's a way of measuring the physical colour range that a display is capable of showing. It's not the best percentage, but it's comparable to what you might find on high-end monitors and pen displays.
A scroller and hotkeys are essential for a device of this size. The tablet comes with nine programmable hotkeys and a scroller that can be used for various practical functions. As you would expect, the pen is battery-free, and supports tilt and pressure sensitivity.
Hotkeys are now pretty standard on devices of this size, but it doesn't mean they're not super helpful. Though the GAOMON comes with a very logical set-up, the keys can be customised in minutes using the tablet software. This is a great way to increase the efficiency of your painting process. If you've not customised hotkeys on a comparable device before, you will find this game changing.
Additionally, the software allows you to adjust the pressure sensitivity of the pen on the screen. It may seem commonplace, but these kinds of adjustments all help to make the device ergonomic and efficient. I'm confident you'll find it easy to set it up to meet your requirements.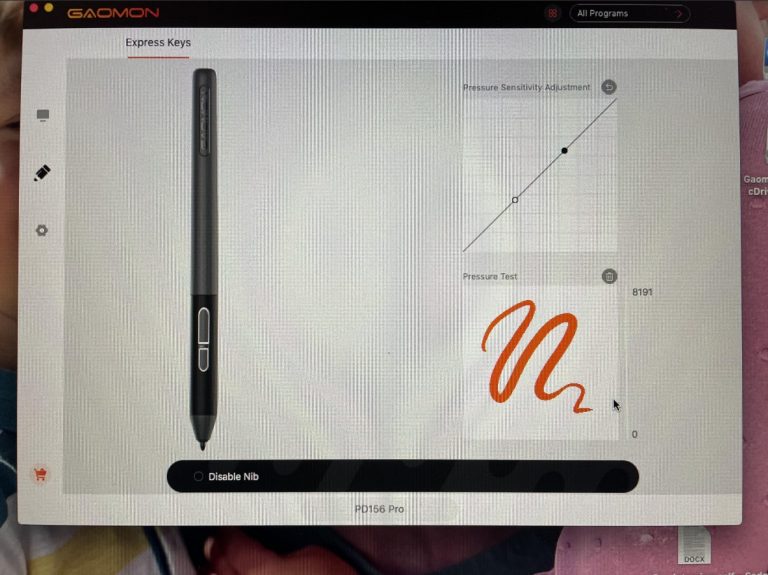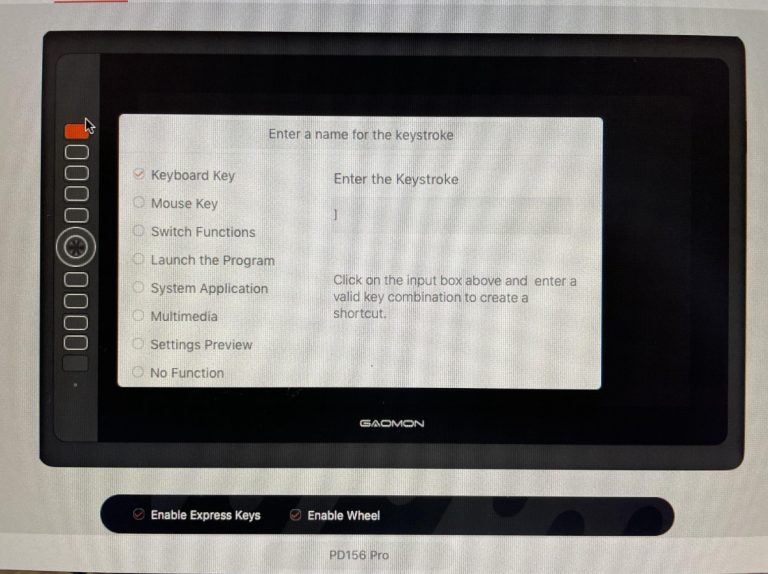 The device can be customised to work as you would want it to
Okay, on to the fun stuff – time to start marking up the screen! I apologise for the video below, as it's hard to film a close-up like this, but I hope it clearly demonstrates my point. The registration of the pen on the screen is important as it helps make the painting process feel organic and intuitive… and the registration with this device is slightly off. As you see, the mark isn't perfectly aligned with the pen. This isn't uncommon (even on pricier devices) and it's something you get used to quickly when painting.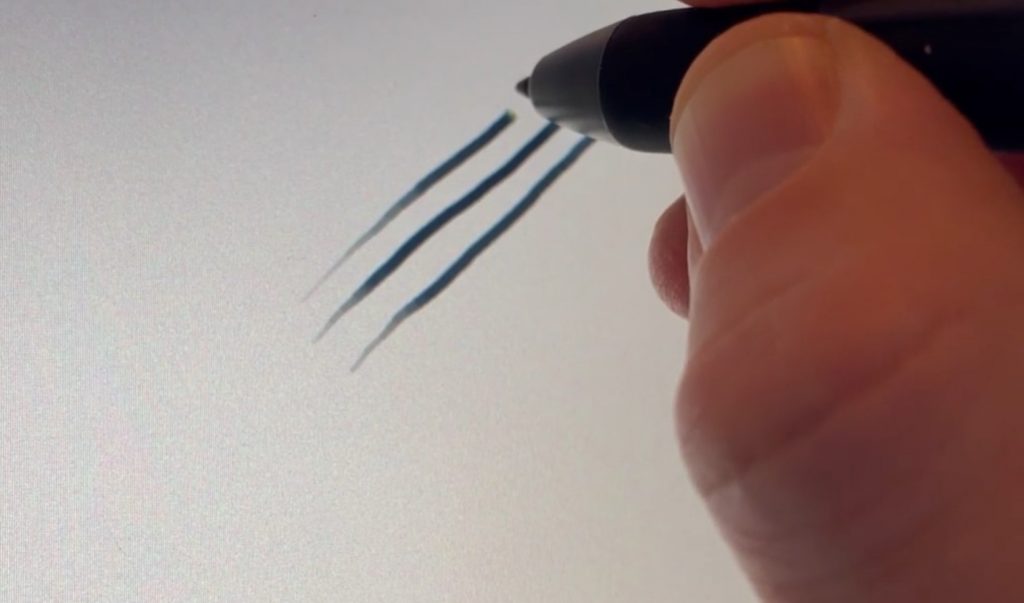 The registration is ever so slightly off
The brush speed compared to your hand movement is not exclusively down to the tablet device. It can also reflect the speed of your PC. In the video below, you can see that the GAOMON was a bit slow to respond to my pen movements. I've tried many devices on this PC using this software, and this was a little on the slow side. The pressure sensitivity was accurate, but the stroke was delayed.
The device seemed slow to respond at times.
The scroller works well. This is particularly helpful when zooming in and out of your painting/sculpture. You can see that in the video below.
The scroller is responsive and really practical to use when zooming in and out.
The screen is vibrant and nice to use. It's really hard to demonstrate this in a photo, but below you can see one of my paintings on the GAOMON and on my iPad. The colours are vibrant and quite punchy. The screen is definitely a positive with this device. It has a great texture to paint on and feels very high in quality.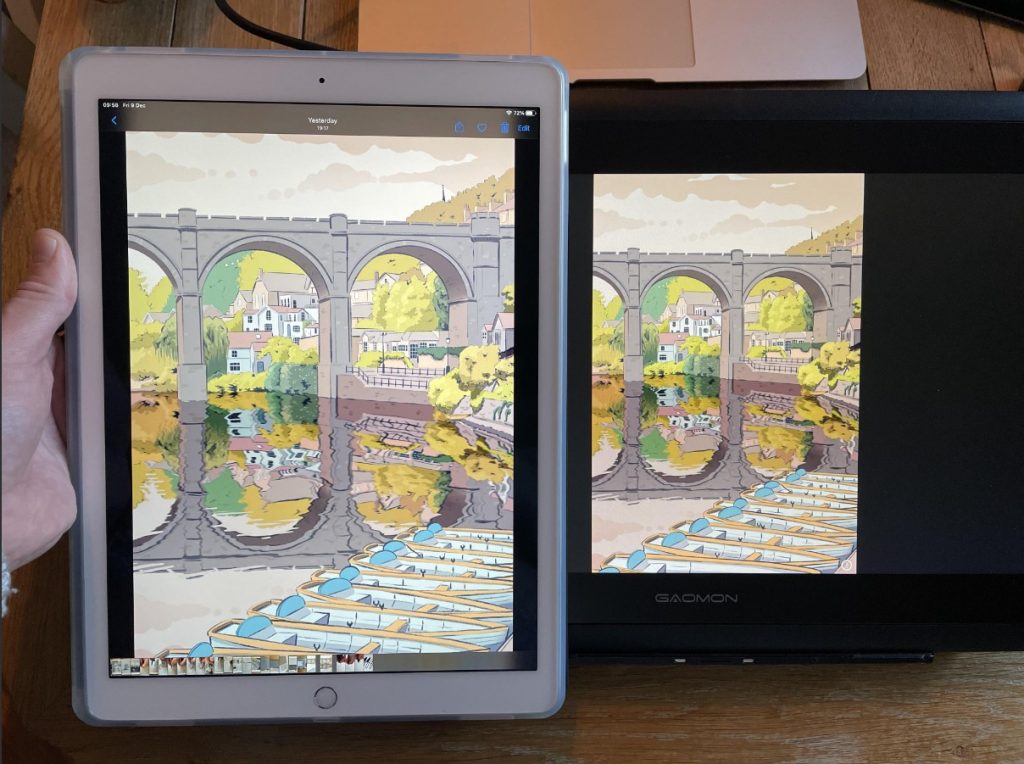 The screen is high quality and the colours are vibrant. 
The GAOMON PD156 Pro is the latest addition to a vast array of more affordable pen-display tablets that are currently available. If you've not used a pen display tablet before and have only used traditional tablets, I think you will find moving to a pen display revolutionary. I remember going through that transition years ago, and it totally changed the way I painted. I am aware that many feel the same about digital sculpting on devices like this.
This specific device is another good example of an affordable pen display. You can get better devices, but you should realistically expect to spend more money. This device is currently just over £300.00 in the UK and about $350.00 for customers in the US. For that price, it represents a good option for those on a relatively limited budget.
It has strengths like the screen, hotkeys, and price, but the registration and responsiveness could be slightly better, and I'd love it to come with a better stand. However, I do feel you'd be hard-pressed to find a new device as good as this for the same price.