GAOMON PD1320 Review: Is It Worth It?
by TIM DANIELS on 29TH OCTOBER 2021
GAOMON are one of the lesser-known drawing tablet manufacturers, but they have been producing their pen tablets and graphics tablets since 2011, so should know how to create a tablet that hits all the boxes that photographers and artists require.
The GAOMON PD1320 looks like a very exciting drawing tablet on the surface, with a relatively cheap price, specifications that match or exceed the market leader Wacom's models, and two USB-C ports, which is not seen in any other tablet.
But does the PD1320 match expectations?
In this in-depth GAOMON PD1320 review, I'm going to take a deep dive into what the PD1320 offers you that other drawing tablets don't, look at whether it really delivers what it promises, and answer the question, "Is the GAOMON PD1320 worth it?"
---
GAOMON PD1320 Quick Overview
The GAOMON PD1320 is a 13.3-inch drawing tablet with screen that offers several unique features in addition to hitting 120% of the sRGB color space on a fully laminated IPS panel, and is particularly useful for those who want to avoid cable clutter, or who want to use their graphics tablet away from home.
It plugs into your laptop or computer and can duplicate or provide a secondary display, ideal for photographers wanting a drawing tablet for Photoshop, or artists using Illustrator or many other drawing programs.
And it's also offered at a surprisingly low price for a tablet of such high specifications.
Pros:
Excellent 13.3-inch screen, with natural, clear and sharp colors

Full screen lamination to minimize parallax, and a good anti-glare film

USB-C connectors allow you to use the tablet with only a single USB-C connection to your laptop – no need for a separate power cable

Audio connector and well-designed controls to set brightness, audio volume and other settings

Supports many Android phones and the Nintendo Switch over USB-C

Accurate AP50 stylus with low activation force and very good cursor tracking

High build quality and premium design

Lightweight and easy to carry at 1.94 lbs (880g)

Cover included that folds to form a stand

Very good value for money
Cons:
No USB-C to USB-C cable included, but there is a good chance you will have one already for a phone or similar

The anti-glare film has a smoother, less textured feel when drawing, but some may prefer this

No buttons on the tablet, as with the smaller PD1161, but there are two on the pen




---
GAOMON PD1320
GAOMON

PD1320 Overview
---
Unique Features of the PD1320
The GAOMON PD1320 has a number of unique features that most photographers and artists will find to be quite a benefit in your day-to-day work.
The top features of the PD1320, that you don't usually find on drawing tablets, are:
Dual USB-C ports, plus HDMI connection, with a switch to toggle between the two

Audio connector

Toggle for controlling the on-screen menu and audio volume

Android support
Dual USB-C Ports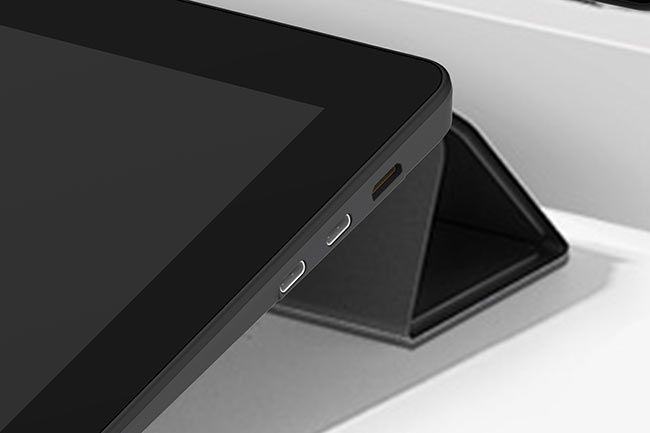 Two USB-C ports plus an HDMI port
One of the most useful features for me of the PD1320 is the two USB-C ports, featured along with an HDMI port for older computers.
The addition of USB-C means that you can power and use your tablet entirely through one USB-C cable (although this cable itself is not included with the tablet).
This is incredibly useful if you use your tablet away from home, as it means less cables to carry and setup, and means that you don't need to site yourself near an AC power point.
With the tablet weighing less than two pounds, and around the same size as a standard laptop, it is therefore incredibly well suited to travel.
One of the flaws of drawing tablets with screens in general, is there reliance on over-complicated cable setups, with even Wacom's Cintiq's needed three separate connections: USB, HDMI and power. This cable clutter can be a real annoyance, and is eliminated on the PD1320.
If you have an older computer that lacks USB-C ports, then you can use the HDMI and the included AC adapter for power through the GAOMON's USB-C port, but most computers produced in the last few years should have at least one USB-C port.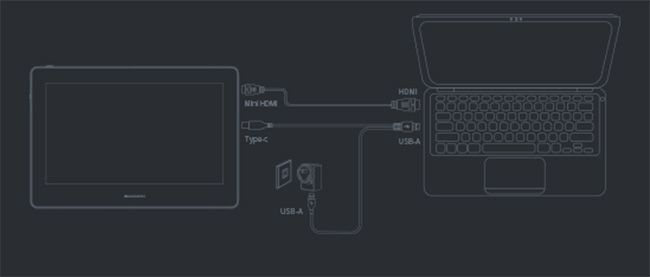 Setup if your computer lacks a USB-C port
Audio Connector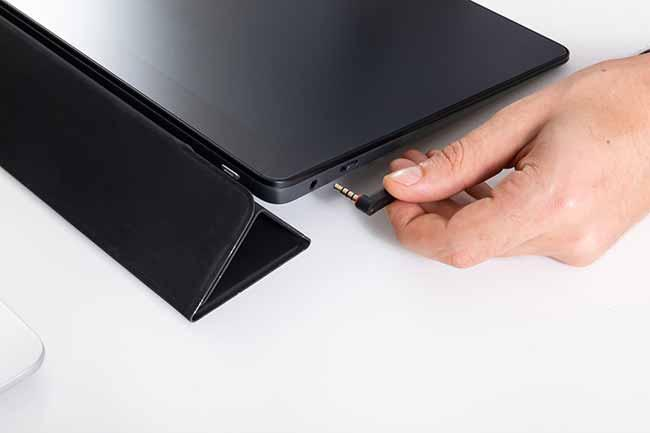 If you dealing with video on your tablet, then you will likely also want access to sound. The audio connector on the side of the tablet eliminates the need to plug your headphones into your computer, which might seem a small issue, but in practice this means that you get extra reach on your headphone cable, and a more comfortable setup.
Toggle Button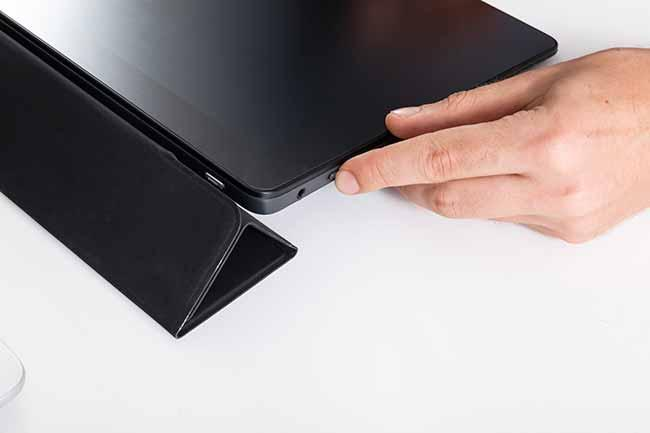 The toggle sited next to the audio jack can be used to set volume, or can be clicked to access a useful on-screen menu, which allows you to set brightness and other settings.
Most other tablets use a software approach for this, rather than a physical button, but the button is much easier to use and so it's good to see GAOMON going down this route.
Android Support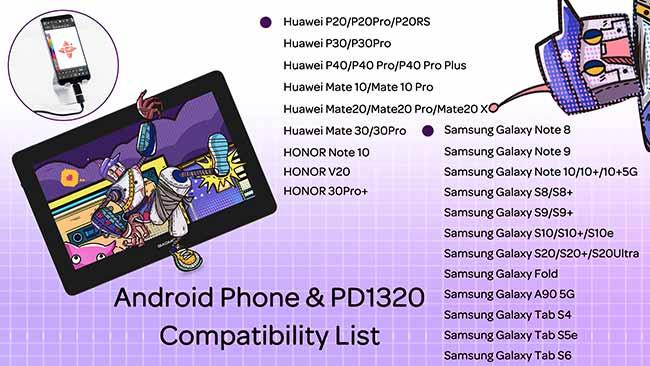 Photo editing directly on Android phones can be a bit of a challenge, mainly due to the small screen size.
Most people send photos to their laptops or desktop computers for any serious editing, but the PD1320 has support for any Android phone that uses Samsung DEX Mode or HUAWEI Desktop Mode, which are currently those in the list above.
This lets you directly access and edit photos on the tablet, and then save the edited photo back onto your phone, which can eliminate the need for a computer for less complex edits.
You do need AC power if you want to use the GAOMON with your phone, as your phone battery is obviously not powerful enough to run the tablet as well. The advantage is that your phone will get charged at the same time.
Android phones require separate power for the GAOMON. You can eliminate the extra power cable for most laptops.
You can also connect a Nintendo Switch to the PD1320, which is a little bonus that gamers will enjoy.
---
Additional Features of the PD1320
In addition to its more unique features, the PD1320 also meets a number of benchmarks that are common among drawing tablets in this price band.
Additional features of the GAOMON PD1320 include:
A 13.3-inch 1080p Full HD screen, with a matte anti-glare film that also protects the tablet from scratches.

A display with 86% NTSC / 120% sRGB color gamut coverage, which offers bright, saturated colors

A fully laminated display, where the screen components are sandwiched together into a very thin package. This reduces parallax, where the stylus appears to float above the screen, and means that the on-screen cursor is nearly always directly beneath the pen nib.

An IPS display panel, which offer excellent contrast, color accuracy and the most complete viewing angles.

The AP50 stylus, which is battery free, with 8192 levels of pressure accuracy, has a greater than 220 reports per second at 5080 lines per inch, and has a 10mm sensing height, with accuracy of +/- 0.5 mm in the tablet's center, to +/- 3 mm in the corners. The pen is very accurate, with only a small force required for activation. There are also 8 extra nibs included in the pen stand.

Premium design and build quality. The PD1320 looks fantastic, and seems like it is built to last.

Lightweight, at 1.94 lbs (880g), making it easily portable.

A cover that protects the screen during travel, but also folds into a triangle to act as a basic stand, with a separate stand available which is ideal for home use.
---
What Does the

GAOMON

PD1320 Do Well?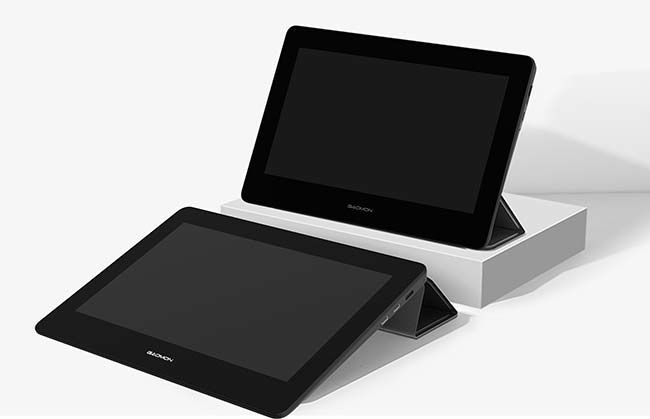 As with most GAOMON tablets, the 13.3-inch screen is exemplary, with deep, saturated colors and good viewing angles.
The matte anti-glare film does impart some fuzziness to the display, but it does stop reflections to a good degree, and also protects the screen itself from scratches.
But being able to power the tablet by USB is the real killer feature of the PD1320, and is not something generally offered in pen display tablets. This makes it incredibly portable, particularly with its surprisingly light weight, and gets rid of those messy cables covering your desk that other display tablets all have.
You also have an accurate pen with easy setup and calibration, with GAOMON's software noticeably improving with time, and left handed support and dual screen compatibility.
Overall, the PD1320 is a very solid pen display tablet that does exactly what it promises.
---
What is the

GAOMON

PD1320 Do Less Well?
There are a few negative to the PD1320, although none of them are deal breakers for me.
In particular, it is a little annoying that the tablet doesn't come with a USB-C to USB-C cable, although like me, you probably have a number of these around your home from other devices and phones, so really I don't need another USB-C cable, and it saves some wastage in not having one included.
Drawing performance is generally excellent on the GAOMON, but the smoother texture on the screen might not be to everyone's taste, and doesn't have quite the same premium feel as Wacom's Cintiq line. You can see a full comparison of Wacom vs GAOMON in the linked article.
There are also no buttons on the tablet, which is common in graphics tablets like this, although as there are so many useful buttons on the smaller GAOMON PD1161, it would be helpful to have some on the PD1320 to aid using shortcuts in Photoshop.
---
Final Verdict: Is the

GAOMON

PD1320 Worth It?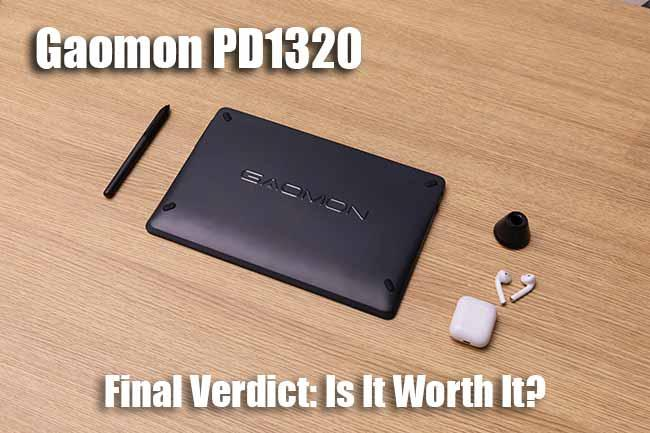 There's no doubt that the GAOMON PD1320 is a very capable pen tablet, offering accurate drawing performance on a 13.3-inch Full HD screen.
Colors are vibrant and sharp, and the drawing experience is overall a pleasure.
For me, the real standout feature is the addition of a single cable, USB-C connection, which solves one of the big problems of display tablets: needing to be near an AC wall plug. Removing cable clutter is a bonus.
The only negatives to the GAOMON are nothing to write home about, and th wealth of positives means that the PD1320 is one of the best cheap drawing tablets available, and comes highly recommended for those looking for a portable drawing tablet with screen, who value high build quality, innovative features, and want a good bargain.
---
GAOMON PD1320