Is it too big to carry your 15.6 inches screen tablet outside when you desire a leisure afternoon time doing some digital drawing at Starbucks? Is it inconvenient to take your large tablet along to have a trip or visit your friends? Is it too expensive to have a screen tablet as your drawing partner at your drawing start-up stage? Is it hard for you to adapt to draw on a pen tablet which needs you to make your hands harmony with your eyes? If you said yes, here is one screen tablet that could relieve all these concerns.
It's a handy screen tablet
GAOMON introduces a new screen tablet, model PD1161 into its display tablet family in June. To make it easy for carrying around, PD1161 is designed with a compact body and a battery-free stylus without compromising its professional performance.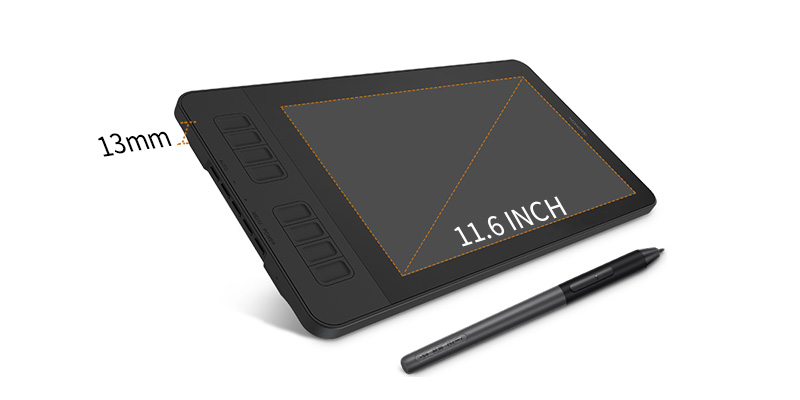 –Ultra-slim body allows it being carried around
To supply a portable screen tablet to users, PD1161 is designed 13mm thickness and 1.65kg weight, allowing you to carry it easily along with your laptop in your backpack.
It also has a sufficiently large screen sized 256.32×144.18mm, delivering you sufficient space to draw.
–Passive stylus doesn't need to charge it or replace a battery
To make it handier, PD1161 adopts battery-free Electromagnetic Resonance technology. This tech allows you don't have to charge the stylus or replace the battery for it.
You can take it to anywhere you need, like the workplace, school, outdoor painting, and a temporary trip so that you can use the tablet for on the go creation. You are free to record your inspiration without place limits.
It's a professional pen display
To keep its professional, the stylus is designed with 8192 level pen pressure which usually applies to a Pro tablet for professional artists and the screen adopts IPS Full HD screen.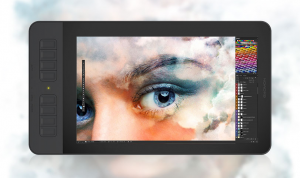 –Highest pen pressure ensures subtle change on each stroke
8192 level pen pressure allows you to draw freely in various ways based on subtle differences in pressure on the stylus, ensuring detailed modification to be realized. Some entry-level tablets still adopt 1024 levels of pen pressure. 2048 levels pen is common in the market. Parts of the pen tablets use 4096 levels. Few tablets reach 8192 levels. The number of the level is larger, the strokes and lines of the pen tablet taper more smoothly, nicely and naturally.
–IPS Full HD screen applies correct and abundant colors
PD1161 packs with IPS Full HD which delivers ultra-wide 178-degree vertical and horizontal viewing angles and make sure correct colors when being viewed from different angles.
IPS screen supports professional color space technologies, covering 72% NTSC gamut. 16.7 million colors are available when you work on PD1161. 1920*1080 full HD can present the details of your artwork with accuracy, deliver incredible visual clarity and color saturation.
'OSD' stands for 'On-Screen-Display' which could make adjustments to the display. It can help you to deliver the brightness, contrast, color controls ect., like calibrating individual red, green, and blue(RGB) settings, adjusting image position, setting color temperature. Offer you more options on display settings.
–10 customizable keys reduce using the keyboard
There are 8 Express Keys on the body of PD1161 and 2 on that of the stylus. You can map them as the shortcut combinations based on your habits. Such as mapping the 2 keys of the pen as the eraser and the brush tool, the other 8 keys as zoom in/ out, scroll down/ up, etc. They help you to do artwork more efficiently.
It's a widely used drawing display
–Users and application
It's ideal for drawing, photography, animation, fashion, sketching, image editing, 3D sculpture, etc. Graphic designers, CAD engineers, pro photographers, and video editors, etc. will benefit from using it.
–Compatible software
And it's compatible with most painting software, like Adobe Photoshop, Illustrator, Clip Studio, Lightroom, Sketchbook Pro, Manga Studio, CorelPainter, FireAlpaca, OpenCanvas, Paint Tool Sai2, Krita and so on.
It's easy to carry for professional artists and quite a high-cost performance for art beginners.
Configuration & Accessibility
| | |
| --- | --- |
| Resolutlon | 1920 x 1080(16:9) |
| Gamut | 72%NTSC |
| Pen Technology | Battery Free Electromagnetic Resonance |
| Pressure Sensitivity | 8192 Levels |
| Press Key | 8 Express Keys |
| Working Area | 256.32 x 144.18mm |
| Net Weight | 866g |
| Pen Resolution | 5080 LPI |
| Accuracy | ±0.5mm (Center) \ ±3mm(Corner) |
| Sensing Height | 10mm |
| Report Rate | 266PPS |
| OS Compatibility | Win 7 or macOS 10.12 or above |
About GAOMON
GAOMON TECHNOLOGY CORPORATION is a Chinese-based manufacturer of the pen tablet, pen display, and handwritten input digitizer. Due to its independent research and development of core technology, GAOMON has delivered widely praised digitizer products, eg. USB/ wireless pen tablet, signature Pad, pen display, LED tracing board, to Chinese creative lovers of animation, photography, digital drawing, etc.,  and has been well-known in China since its debut in 2011.  Following GAOMON's firstly releasing of its flexible tablet S56K to global creative lovers in 2016, it has introduced more pen tablets to meet different demands of international creative content artists, including pen tablet, pen display, LED tracing board. Its items can be available on Amazon Official stores including European stores (France, Italy, Germany, The United Kingdom, Spain), North American stores (The United States, Canada ), Asia stores ( Japan) and  AliExpress Official store for other areas.
GAOMON, though, is young, but also energetic and enthusiastic. GAOMON keeps a rigorous discipline while working and believes the devil is in the details. Each question you ask, no matter how subtle, GAOMON team will focus on it and treat it seriously. GAOMON aims to use its well-built products to pave the way for your art road, so that you may walk gracefully and easily.