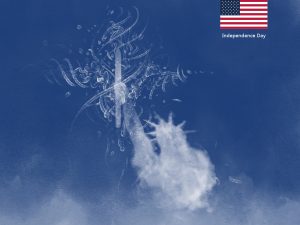 July 4 is America's Independence Day which, literally, is a day when America became independent. However, America didn't become independent on their Independence Day even though they celebrate this holiday as national day annually. On July 4, 1776, the Continental Congress adopted the Declaration of Independence although they still took years to gain their independence from the British Empire. Now, they often hold fireworks, parades, concerts, barbecues and family gatherings to celebrate this holiday.
Origin
In 1492, Christopher Columbus led a Spanish expedition to the 'New World'. Since then, America was under European rule. Spanish, English, French, Portuguese, and Dutch came later. They established their permanent settlements, colonies. But these colonies finally were ruled by the British Empire.
In 1775, the American Revolutionary War burst out. The thirteen North American Colonies of the British Empire stopped paying taxes to the British. Representatives from the 13 colonies met in Philadelphia, called the Colonies' Second Continental Congress, on June 11, 1776, and finally formed a committee to draft an independent document.
The committee included Thomas Jefferson of Virginia, Benjamin Franklin of Pennsylvania, John Adams of Massachusetts, Roger Sherman of Connecticut and Robert R. Livingston of New York. Jefferson drafted the original document and a total of 86 changes were made. On July 4, 1776, the Declaration was officially adopted by the representatives from the 13 colonies.
The Thirteen Colonies were: New Hampshire, Massachusetts, Rhode Island and Providence, Connecticut, New York, New Jersey, Pennsylvania, Delaware, Maryland, Virginia, Carolina, Georgia. Nine of them voted in favor of the Declaration; two (Pennsylvania and South Carolina) voted No; Delaware was undecided and New York abstained.
The Pennsylvania Evening Post was the first one to publish the Declaration of Independence on July 6, 1776, and the Declaration was signed by the representatives on August 2, 1776. The Revolutionary War ended in 1783, with the signing of the Treaty of Paris with Britain. Then, the United States became an independent nation.
Philadelphia celebrated Independence Day with bonfires, bells, and fireworks on July 4, 1777, one year later. The term 'Independence Day' was not used until 1791. In 1870, Congress designated Independence Day as an unpaid holiday for federal employees and in 1938, Congress established it as a paid holiday.
Thomas Jefferson, at the age of 82, and John Adams, at the age of 90, died on the same day, July 4 in 1826, the 50th anniversary of the Declaration of Independence. They were both signers of the Declaration of Independence and presidents of the United States. They were the last surviving members of the original American revolutionaries of the former colonies.
Celebrations
The Declaration of Independence was read to the public after its adoption in 1776 and got welcomes in various American cities. At its first anniversary, bells were rung, guns fired, candles lighted, and firecrackers were played. These celebrations established the foundation tune of modern festivities. As time goes, other summertime activities also mingled in this holiday, including picnics, baseball games, barbeques, trips to the beach, etc. Now lots of great activities are held to celebrate this holiday.
John Adams, wrote to his wife in 1176, that Independence Day '…ought to be celebrated by pomp and parade, with shows, games, sports, guns, bells, bonfires, and illuminations from one end of this continent to the other…'. The sky of July 4th is annually illuminated with spectacular firework displays. The largest fireworks display is the Macy's 4th of July Fireworks in New York. Many would visit New York to view the display.
As America spans several time zones, from New York City to San Francisco, on the holiday night, colorful displays almost light up the sky all night. People gather with friends and family in parks or backyards to watch the fireworks and enjoy their yummy food. For someone who like to stay indoors, watching A Capitol Fourth is a good choice. This concert is annually held on the West Lawn of the US. Capitol and is aired nationally on PBS.
Washington DC, the capital of America, has a big parade annually. It's held at 11:45 a.m. with military demonstrations, floats, bands and more. Boston, as one of the oldest cities of America, has a large Independence Day celebration, with fireworks and the Boston Pops Orchestra playing patriotic songs. Philadelphia holds a reading of the Declaration of Independence at Independence Hall.
The most common symbol of the holiday is the American flag. Almost everything is decorated in the flag colors and stars, showing the patriotic. People deck out in red, white and blue to celebrate Independence Day. Walls are plastered with stars and stripes. The food is topped with colorful stars. American flags are flying everywhere.
The day is in summer. People usually invite their friends and family to have a cookout. Watermelon is a good choice for a summer cookout. Some food is made in red, white, and blue, such as strawberry, blueberry, and marshmallow salad. Based on a survey from statista.com, 65.5 percent of American respondents planned to celebrate Independence Day with a cookout, a barbecue or a picnic.
---
Reference
Thomas Jefferson and John Adams die
America's 'Real' Independence Day Is Not July 4
Fourth of July – Independence Day
July 4, 1776: America Declares Independence from Great Britain
The History of the Fourth of July
Independence Day in the United States
The History of America's Independence Day
What is American Independence Day? And why is it on July 4th?
How to Celebrate Independence Day
History of July 4 Celebrations
How do you plan to celebrate Independence Day this year?
Celebrating America's Birthday: The Fourth of July
How Americans Celebrated Independence Day in 1777
The Best Fourth of July Celebrations Across the U.S.
Name Your Favorite Firework!
Celebrating U.S. Independence Day