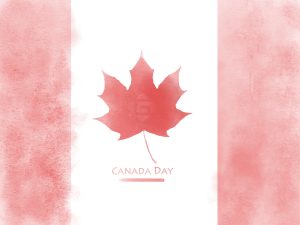 Canada is a country in the northern part of North America. It's the second largest country in the world. It's known for its vast, untouched landscape and is one of the world's wealthiest countries. Canada officially speaks French and English due to its colonial history. It became a self-governing dominion on July 1, 1867, by the British North America Act. This day is named Canada Day and also the topic of this post.
Origin
Canada Day falls on July 1 annually and it's on Monday, July 1 this year. It was named Dominion Day at the very beginning on July 1, 1867, when three British colonies (Nova Scotia, New Brunswick, and Canada) in North America were united as 'one Dominion under the name of Canada'- Dominion of Canada, by British North America Act. Canada Day has changed its name several times. It was also known as July the First, the First of July, Confederation Day, and Dominion Day. On this holiday, schools and most businesses are closed. Many employees could get the day off and would still get their regular pay. Fireworks, parades, and picnic are generally held.
On July 1, 1867, the British North America Act (also called Constitution Act 1867) created the Canadian federal government and stated that Canada would be an 'independent dominion' of England. Then this day was called 'Dominion Day'.
On July 20th in 1868, Charles Stanley Vicomte Monck called upon Canadians to celebrate July 1st. From 1867 until 1879, Canada Day was not officially established. In 1879, the Canadian Parliament adopts law to make July 1st a statutory holiday and called it Dominion Day.
In 1946, Canadians attempted to rename the holiday as Canada Day. However, as the vote didn't reach the required number, this attempt failed. 1967 was Canada's centennial anniversary. Until this year, Dominion Day celebrations began to be televised. Canadians began to call this holiday 'Canada Day'.
In 1982, Canada became a fully independent country by terms of the Canada Act of 1982. Dominion Day also was changed to Canada Day. In 2017, Canada celebrated its 150th anniversary of Confederation.
Celebrations
Canada Day marks the day when Canada gained its independence from Great Britain in 1867. It is celebrated with parades, festivals, barbecues, fireworks, concerts, welcome ceremonies for those who recently became citizens and widespread displays of Canadian pride. Many cities of Canada will hold parades on Canada Day. Parades vary by city and province and often are attended by The Royal Canadian Mounted Police. Many may include local floats.
Canada's national flag consists of two vertical red rectangles separated by a white square. The white square contains a red image of a maple leaf. To show their Canadian pride, many Canadians will dress from head to toe in the nation's colors of red and white. Like a shirt with a maple leaf or a Canadian flag hat. Some would go further to show their patriotism. They apply temporary tattoos of the Canadian flag or red maple leaves to their cheeks, arms, or legs. Some also paint their nails red and white. The Canadian flag is everywhere. Many hang a Canadian flag outside their home. Some will wave a flag while watching parades.
Barbecues are common celebrations. People decorate their homes with red and white streamers or red maple leaves and gather their family and friends together to have Canadian themed parties and enjoy good food.
Ottawa, the capital of Canada, will host a huge celebration to celebrate this day. The celebration kicks off at 9 a.m. with a flag raising on Parliament Hill. Then a changing-of-the-guard ceremony is following. The fireworks spectacle ends the day in front of the Peace Tower. This year, it's Canada's 152nd Canada Day. Canada's capital will hold a two-day celebration on Sunday, June 30 and Monday, July 1, 2019. Many roads are closed to traffic. Details: Canada Day (long weekend) in Ottawa – official programming 2019
---
Reference
https://www.britannica.com/place/Canada
https://wikitravel.org/en/Canada
https://en.wikipedia.org/wiki/Canada
https://www.kidzworld.com/article/989-canada-day
https://www.southshorebreaker.ca/living/canada-day-facts-and-other-fun-history-222012/
https://www.optimistcanadadaysaskatoon.com/history-of-canada-day
https://refreshfinancial.ca/blog/general/history-canada-day/
https://www.britannica.com/topic/Canada-Day
https://www.readersdigest.ca/travel/canada/4-ways-celebrate-canada-day/
https://www.wikihow.com/Celebrate-Canada-Day
http://www.legislation.gov.uk/ukpga/Vict/30-31/3/contents#top
https://www.historymuseum.ca/cmc/exhibitions/hist/medicare/medic-1c01e.html
https://www.britannica.com/event/British-North-America-Act
https://www.timeanddate.com/holidays/canada/canada-day
https://www.canada.ca/en/canadian-heritage/services/canada-day-history.html
https://www.tripsavvy.com/canada-day-1482007
http://mentalfloss.com/article/31069/what-exactly-canada-day