Portrait? Cartoon? Cartoon Portrait!
You might have seen some street portrait artists draw portraits for people just like the following picture. You might also want to have one but fail to go forward and sit down. There were many reasons that stopped you. Such as there were too many people in the line, or you were too shy to ask a request, or just because you were in a hurry. You told yourself to wait for the next time but it's a luck to meet these artists.
How lucky we are! The internet allows many things possible. There is a trend that you post your picture and the artists draw your portrait for you based on the picture. In the flood of drawing, there are many interesting works flowing on the internet. You might have seen the work from 'Ghost drawing artist' Ralf.
Or maybe the ingenuity drawing of Jones who replaced the passengers' head with cartoons' characters in his drawing works.
And Robert Dejesus! He is not a stranger to the anime and manga community. The self-taught artist has drawn manga inspired art for over 18years. From here you can learn his work listed in time order. For almost 20 years drawing experience, his style is combined with American comics and Japanese manga. Each real person under his pen is beautiful and cute that will move your heart. The American artist is transferring real people into the animated world. You can scan through to have a simple glance at his work.
Robert is very good at catch the personalities and makes them outstanding in his drawings. He tries to exploit your favorable conditions and avoid the unfavorable ones to draw a beautiful you.
Full face photo is not nice; then draw you in the good-looking side face. Now he is using his spare time to draw.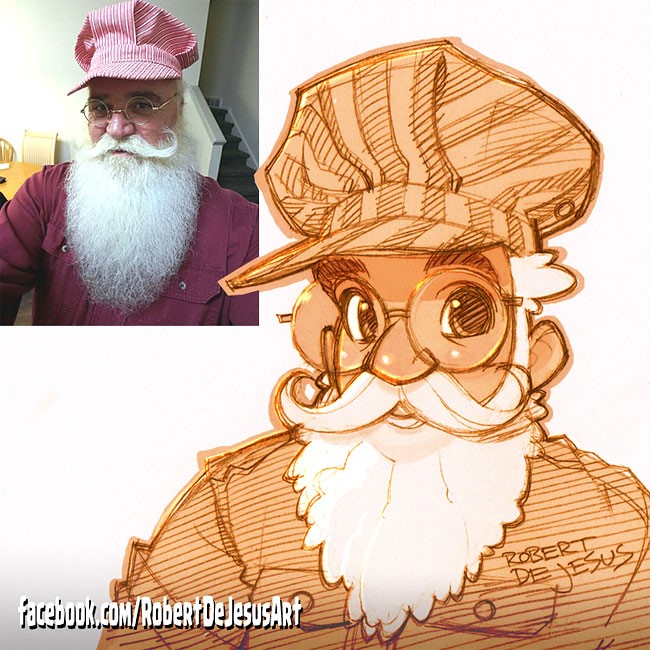 Not only the real people, he also transfers their pets into animated.
If you want to have a cartoon version of yourself, you can bid on Robert's eBay store. He likes to use his talent to draw a cartoon portrait for you and he wishes he could get to everyone's requests for pictures but that would burn him out. This is not his main work and he'll do it while he is free.
Here is his facebook: https://www.facebook.com/RobertDeJesusArt
Here is his Instagram: https://www.instagram.com/rob_dejesus_art/