Background
The display interface on PC and interface on the monitors are usually in different shape. As the path of display output and monitor, interfaces have been changed a lot with time developing, and there are many different shapes. Firstly, lacking of an united standard, the ports can't be compatible with each other. No doubt it could make much chaos for customers, destroying their using experience and leading to the wasting of material. And now, manufactures have noticed this issue, the trend is that they are adapting the united interfaces that could be compatible with each other.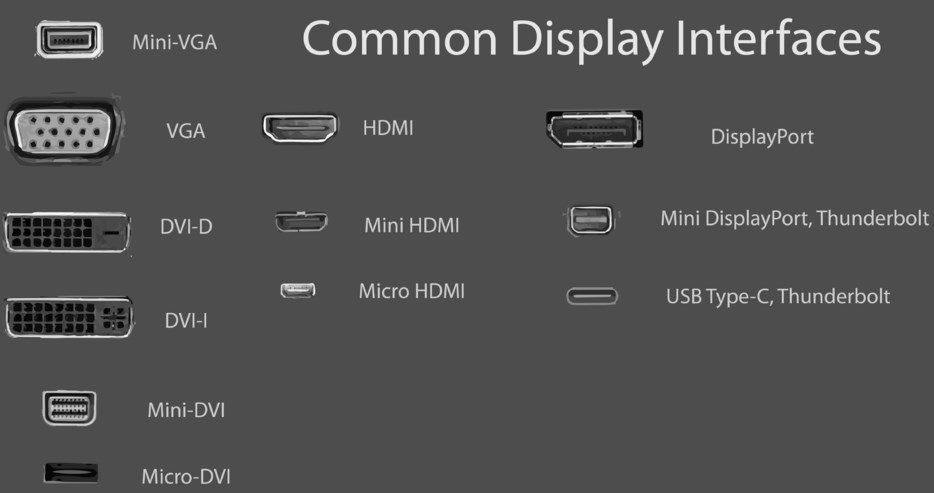 6 types of display ports
VGA port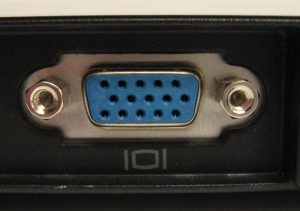 VGA is also called D-sub port. In the time of CRT monitor, VGA is essential because CRT is simulation equipment, and VGA is using simulation protocol. They are born best matches. VGA has 15 pins structure, with the signal of Transmission component and Synchronize, mostly being used on old graphic cards, laptop and projector.
With several problems of cable and signal interface, VGA could only support 1080P video at most, under higher resolution, typeface will be blurry and it will lose the image quality. So it has been gradually eliminated, hardly we can see it being used on today's monitors.
DVI port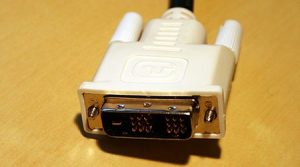 DVI is short for Digital Visual Interface, it's a display port standard to transform uncompressed digital image. Now it's mostly used on LCD, digital projector, partly compatible with HDMI specification.
With different functions, DVI ports are separated into 3 types.
DVI-D (Digital, single link or dual link): It's pure digital interface, incompatible with simulation signal.
DVI-A ( Analog): It's only simulation signal, normally used on graphic card transmitting to VGA port monitor.
DVI-I (Integrated, single link or dual link): DVI-I is compatible with DVI-D's port type, support simulation signal and digital signal both.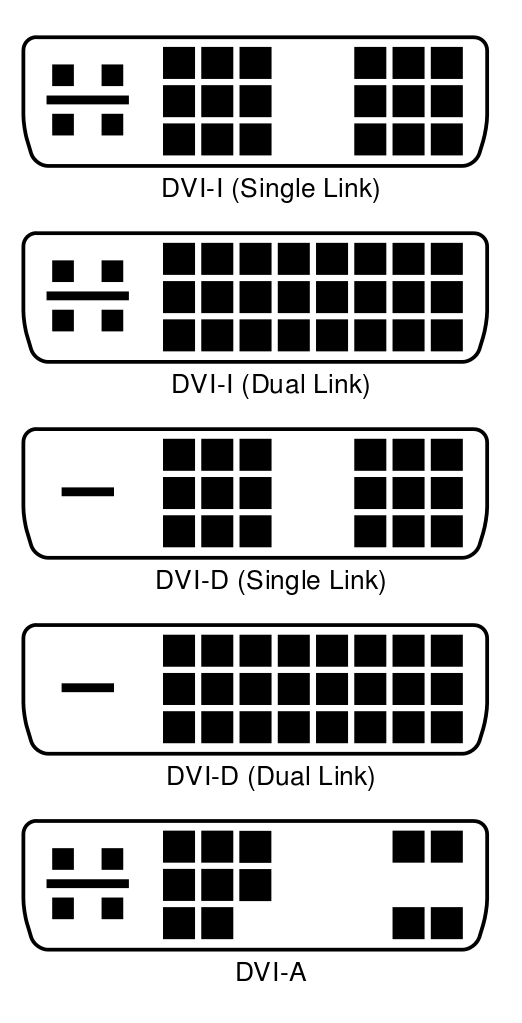 HDMI port
HDMI is short for High Definition Multimedia Interface, it's a pure digital image and audio transmission port, which could transmit uncompressed audio and video signal.
HDMI is normally used on DVD player, PC, XBOX, television, digital speaker and Set-top box. It has taken place the simulation signal, Display Port has replaced DVI and VGA port.
The standard HDMI type-A could be compatible with single link DVI-D or DVI-I but not DVI-A, which means signal from DVI-D could drive HDMI screen via adapter, but it doesn't support audio transmission.
Specific: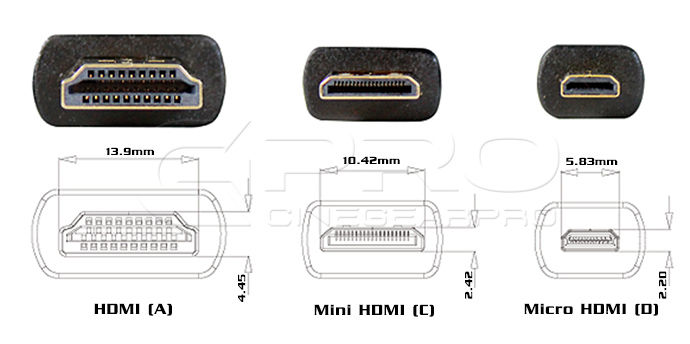 The specific of HDMI has several types: Standard HDMI (Type-A), Mini HDMI( Type-C), Micro HDMI(Type-D). You may get confused why there is no Type-B on the picture. Don't worry, I will tell you the reason.
Standard HDMI (Type-A)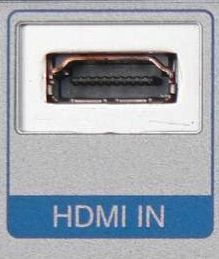 Its size is 4.45 mm×13.9 mm with 19 pins, applied on HDMI 1.0 Version. It's the most common interface standard, normally equal to single link DVI transmission.
HDMI Type-B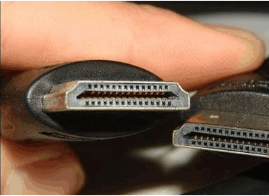 Its size is 4.45 mm×21.2 mm with 29 pins, applied on HDMI 1.0 Version. It could transmit double TMDS data than HDMI Type-A, equal to dual link DVI transmission. It's used for high resolution image (WQXGA 2560×1600 or above), but it's only applied on some professional occasions, we can hardly see it on our daily life.
Mini HDMI (Type-C)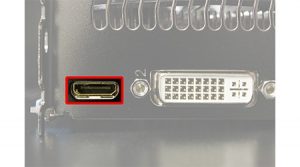 Its size is 2.42 mm×10.42 mm with 19 pins, applied on HDMI 1.3 Version, we could say that it's a mini version of  HDMI Type-A. Normally it's used on portable devices, such as: DV, digital camera, portable multiple-media players.
Micro HDMI (Type-D)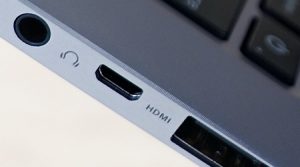 Its size is 2.8 mm×6.4 mm with 19 pins, applied on HDMI 1.4 Version, but the definition of the pins has been changed a little. Its size is smaller than Mini HDMI by 40%, which could bring 1080P resolution and 5Gps data rate at most for camera and mobile phones.
Display Port
It's normally shorten as DP, it's a standard digital port established by Video Electronics Standard Association (VESA) in May, 2006.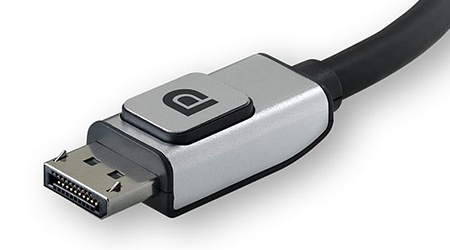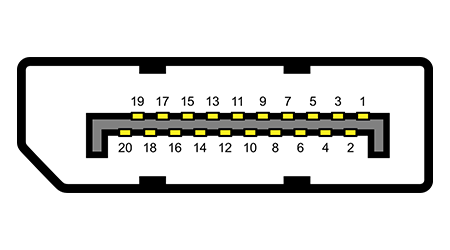 Free of certification, fee of authorizing, this interface is usually applied on linking PC with monitor or family theater system, it's meant to replace the old VGA, DVI and FPD -Link. It's the opponent of HDMI port, but in some graphic cards, they could exist together. Now, DP has been developed to 1.4 version, which could transmit 10 bit, 4K 120FPS video, or 8K 60 FPS video. It's also compatible with Type-C port, which means we could transmit the HD video under DP 1.4 protocol, meanwhile transmitting data under USB 3.1. Besides, DP port could transmit audio with only one cable enabling monitors could make the sound.
Mini DP
It's a mini version of Display Port, released by Apple in Oct, 2008. They both have 20 pins, but Mini DP is only half size of Display Port. It's born to replace Mini DVI and Micro DVI ports.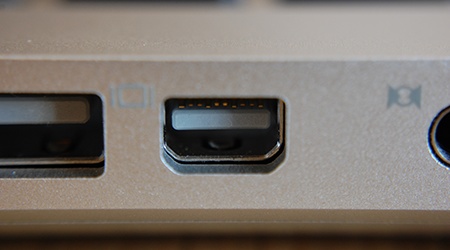 Type-C
It's now a very normal port on some high-end laptop or PC. Now, its rate could reach to 10Gbps under USB 3.1 Gen2, and it's designed to transmit video and data. It could meet the needs of 4K, 30 FPS video, normally equal to the standard of HDMI 1.4 or DP 1.2. But it could be updated in the future, and it will unit all the data transmission methods.
Refer to our related article for more information: The development from Type-A to Type-C.
Thunderbolt
Thunderbolt port is normally used on MacBook Air or MacBook Pro, famous for its speed and stability. It has mixed PCI Express and Display Port protocol, in which PCI Express is used for data transmission, and DP port for display, they could transmit 1080P even 4K video and 8 vocal tract. And these 2 protocols have their own channel while transmitting, so they won't interface each other.

Thunderbolt has been developed to the 3rd generation, the rate of Thunderbolt 1 is 10Gbps, the rate of Thunderbolt 2 is 20Gbps, the rate of Thunderbolt 3 is 40Gbps. What should be mentioned is that Thunderbolt 1 and 2 are using the shape of Mini DP port, but Thunderbolt 3 is using the shape of Type-C port. Even in the different shape, they are all using Thunderbolt transmission protocol, and they have a Lightning mark besides the port.
Thunderbolt 1 and 2

Thunderbolt 3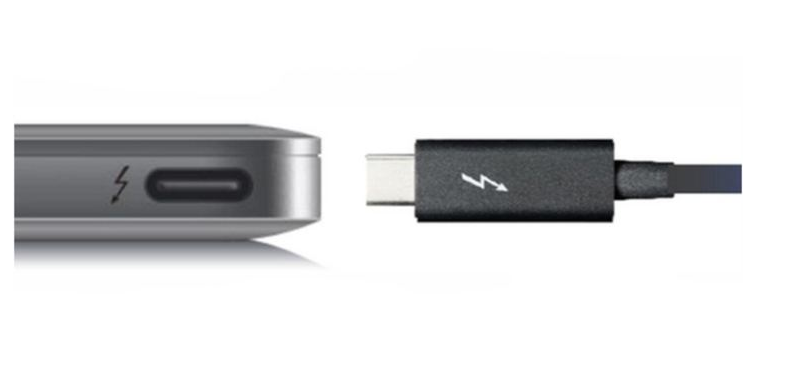 In a word, Thunderbolt is a 3 in 1 port containing signal, data, and power delivery, which could increase your efficiency. And Thunderbolt 3 port supports 85W PD max, which will help with the power supply insufficiency while using traditional HDMI or DP cable to link monitor and PC.
Conclusion
As for these ports, we could usually see them on our monitors, in which HDMI port is absolutely the mainstream. It's so mature and stable, affordable enough for our daily use. But when it comes to monitor color correction, HDMI is not suggested, it lacks in RGB range, instead we should use Display Port. Except the price, Type-C port and Thunderbolt protocol is the best choice, fortunately it's gradually popularized with price going down, we can see them being used on high-end PC or laptop more frequently.
---
If you have anyquestion, please contact us via email: service@gaomon.net
Related Posts