It's sakura blossoming season. Each petal of sakura witnesses the graduation of Japanese students and also their smiling faces of believing in the future. In order to thank everyone for your support, GAOMON has taken the opportunity of graduation season to collect the paintings, entitled "My School Days", and offers grand prizes.
Special note: This activity includes two events: a drawing competition and a giveaway.
Rules in the Japanese version
EVENT 1–DRAWING COMPETITION 'MY SCHOOL DAYS'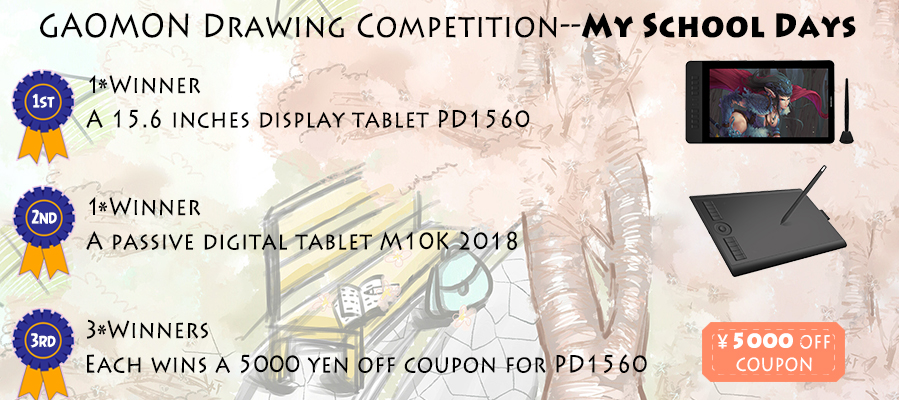 ※If Champion has purchased a PD1560 or Runner-up has purchased an M10K 2018, a full refund is available for the two winners only if they can provide the order number on Amazon or AliExpress. Coupons do not support refunds.
The event aims to collect the drawing works themed "My School Days".
The content of the entries should be any of the 6 following scenes. Characters are required in your drawing work:
1)a corner of the campus;
2)a group trip;
3)a school festival–キャンパス祭;
4)a student club activity;
5)a school sports competition;
6)Other contests in the school.
Start: March 15th, 00:00 (UTC+9)
End: May 5, 23:59 (UTC+9)
Winner Announcement: May 10, via Twitter by @GaomonJapan
The winners are requested to contact us to claim the prizes within 5 days after the announcement of the winners. If one prize is not claimed within 5 days by a winner, the vacancy will automatically fill by the next winner.
For example, if the first winner does not claim the first prize within 5 days, the second place will turn into the first place. Then a new second place will be re-picked out from the three third places. Therefore, a new third winner will be selected from those who are not on the winner list.
There are two methods to submit your drawing work.
Method 1: Publish entries via Twitter (recommended)
Method 2: Publish entries via other SNS (for participants without a Twitter account)
No matter which method you choose, information in the green frame must be added into your entry post.
Words required on your entry post
This is one of my entries for GAOMON drawing contest 'My School Ages'. I hope you'll love it. Contest link: https://blog.gaomon.net/news/graduation_season_drawing_contest
@GaomonJapan @Gaomonpentablet #schooldays #GAOMONchallenge #GAOMON
An example of the entry post: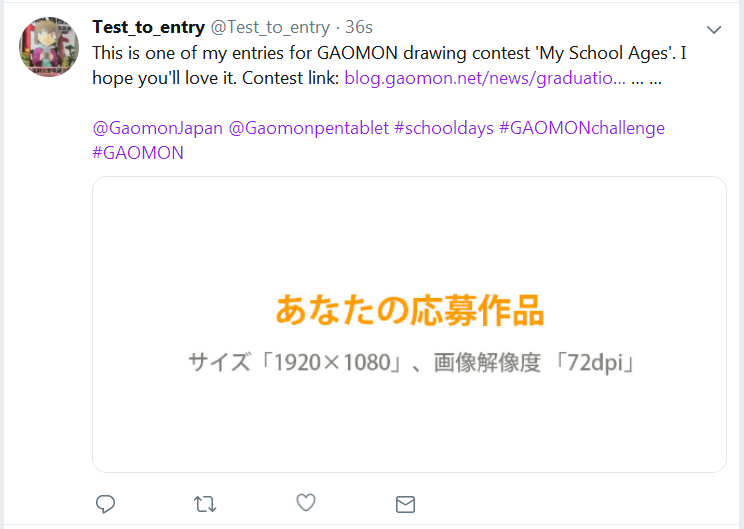 For those submitting by the second way, the URL/link of the entry post should be pasted into the comment area of this blog.  An example shown as below.
(Please correctly fill your email address.)

Participation Notification
1. For those who publish the entries via Twitter:
@GaomonJapan will reply to your entry post with the phrase, 「いつも応援頂きありがとうございます。参加成功しました!」within 3 working days after you have posted your entry on Twitter.
2. For those who publish the entries via other SNS:
GAOMON will send you an email with the words 「いつも応援頂きありがとうございます。参加成功しました!」 within 3 working days.  Please make sure the email address you offer is correct and can reach you.
If you did not receive such reply, it means you failed to participate in GAOMON drawing contest. For such issue, please send the link of your entry post to GAOMON's email: service@gaomon.com.
1)Digital drawing work is accepted. Copied drawing work is not allowed.
2)No limit to the number of entries. You can send as many designs as you like, with all the tweets you need.
3)Format:1080P, no less than 72DPI.
4)Any sensitive content (such as pornography / violence / politics / religion) is not allowed.
※If you use someone else's work to enter this drawing contest, any legal liability and any loss to GAOMON will be borne by you.
Once you participate in this drawing competition, you agree to authorize GAOMON to use the entries you submitted at this event for GAOMON promotion.
1) Winner's work: In addition to its use for general social platforms (such as Facebook, Twitter, etc.), GAOMON may also use it on product detail pages (such as Amazon and AliExpress), websites, packaging, brochures, etc.
2) Participant's work: GAOMON will only use it for promotion on general social platforms (such as Facebook, Twitter, etc.).
EVENT 2– GIVEAWAY
Rules to Participate Notification
The winners of the two events are independent of and do not conflict with each other. You can participate in both events at the same time. 4 winners will be selected in the Giveaway event.
How to enter:
Follow Gaomon's twitter: @GaomonJapan
Retweet & Like GAOMON Graduation Contest tweeted by @GaomonJapan: "毕业季GAOMON绘画比赛–"我的学生时代""的活动推特【放推特链接】
Time: Starts now and lasts to May 5
Winner Announcement: May 10

※Winners should contact @GaomonJapan to claim the prizes within 5 days after the winner list being announced. If a prize is not claimed by a winner within 5 days, another winner will be re-picked out.
DRAWING COMPETITION & GIVEAWAY
This activity is limited to people who live in Japan.
The physical prizes for both competitions will be shipped from Japan and will arrive within 1-5 business days.
The coupon will be sent directly to the winners after the winners have applied for the prizes.
GAOMON reserves its right to modify the rules, such as revising the error message, adding additional information, and so on.
GAOMON will never delete published rules. Any changes will be listed at the top of this activity post.
GAOMON reserves its right to modify and extend the progress of the activity according to the needs of the events.
GAOMON reserves its right to disqualify participants who violate the rules of this activity.