A pen tablet, also known as a digitizer, drawing tablet, drawing pad, digital drawing tablet, or graphics tablet, is a computer input device that enables a user to hand-draw images, animations and graphics, with a special pen-like stylus, similar to the way a person draws images with a pencil and paper. (Click to learn more about pen tablet ).
GAOMON introduces an affordable and portable pen tablet, model S620 into its tablet family in March 2019. This tablet could connect to your Android phone and tablet PC. It is designed for game players who desire to reduce the distance of arm movement and increase the speed of cursor responsive and accuracy,  for artistic beginners and enthusiasts who begin their creative practice on paper and desire to master the skill of the digital content creation, and for businessmen who desire an easy way to sign their name.


Packed with 8192 levels of pen pressure sensitivity, 6.5*4 inches active area, wireless & battery-free pen, GAOMON believes, this entry-level tablet, model S620, will release you from struggling to draw digitally or playing with only a mouse and liberates creative to focus on your work or on enjoying your game.
Entry-Level Tablet with 8192 Levels of Pen Pressure 
–High pen pressure delivers a professional level of art creation 

experience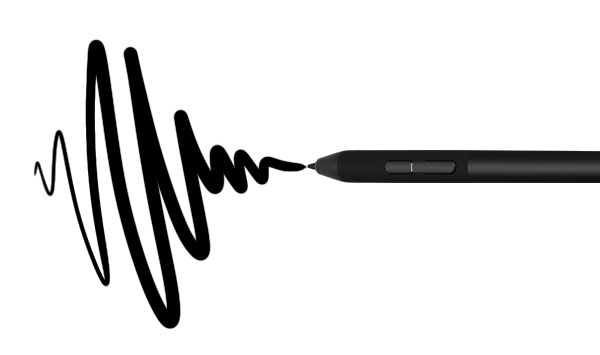 Usually, there are four levels of pen pressure sensitivity mounted on the graphics tablet in the market. The four levels are 1024, 2048, 4096 and 8192. Some entry-level tablets still adopt 1024 levels of pen pressure. 2048 levels is common in the market. Part of the pen tablets use 4096 levels. Few tablets reach 8192 levels. The number of the level is larger, the strokes and lines of the pen tablet taper more smoothly, nicely and naturally. Usually 8192-level applies to a Pro tablet for professional artists. 
–Lines taper nicely and strokes transition smoothly
GAOMON S620 as an entry-level tablet features 8192 Levels of Pen Pressure and 266PPS Report Rate, delivering you a professional level of pen pressure experience and a feeling of drawing on paper with a traditional brush, pencil, or marker and enabling vivid and instant presentation of lines input. As you draw or sign your name on S620, the lines taper nicely along with your press on the stylus pen: a light stroke gets a thin line; a heavy stroke gets a thick line. Strokes transition smoothly as on a sheet of paper.
'3.E' Benefits
Economical–Passive technology saves on battery budget
As the same as M10K 2018 version launched in the last November, S620 adopts the passive Electromagnetic Resonance technology that delivers a wireless and battery-free stylus. The passive stylus is not powered by a battery but the Electromagnetic. Therefore, you don't need to buy a huge amount of batteries or charge the stylus in regular time in case that the stylus is low power and can't work. A large budget on the battery is saved on. 
Efficient–6 customizable ExpressKeys reduce workflow
S620 comes with 4 customizable ExpressKeys to reduce your workflow and speed your drawing process. There are two customizable buttons on the side of the stylus too. You can program the 6 buttons into your habitual shortcut combinations. For example, in Photoshop, appoint them as Brush, Zoom in/ out, Undo, Erase.
Environment-friendly–Battery is not required
Batteries contain a number of heavy metals and toxic chemicals. The disposing process of them as regular trash has raised concerns over soil contamination and water pollution. As the pen doesn't need batteries to power. There are no batteries consumed. It's more environmentally-friendly than a battery-powered pen.
Compact & Portable Tablet with 

6.5*4 Inch Active Area

–Big enough for drawing space needs
–Compact body for being carried around
In order to meet the needs of being able to carry around as a sketchbook at any time, this tablet is compact designed with a 6.5*4 inch (165.1*101.6mm) active area, big enough for beginners' drawing needs and compact as possible for you to carry arou. A grid of white dots indicates the active surface area of the tablet.
GAOMON S620 is compact and minimalistic design. It won't take much space on your desk with a compact body. You can place it anywhere, such as on your lap, while drawing. With only a micro USB cable and not too large body, it's just as portable as a sketchbook that could be carried in your laptop bag on travel.
The wireless & battery-free pen also improves its portability. Go anywhere, you don't need to worry about that the pen may go lower electricity, where to charge the pen or buy a battery.
Compatible with Android Phone
S620 adopts USB OTG tecnology. It allows you to connect S620 to your smartphone or tablet. That means you can use it without a computer or laptop. On a travel, you just take your phone and S620, then you can enjoy digital drawing. Click to learn more about S620 OTG Mode
Quick & Accuracy 

Response 
–5080LPI, 

±0.3mm

 accuracy and 226 PPS ensure the quality of pen trace capturing
–Quick response ensures it works perfectly in rhythm games & drawing
S620 comes with 5080 LPI (lines per inch) which register the cursor movement quicker than a mouse dose and improve your game scores high, especially for OSU! kind of rhythm gameplay. LPI means the resolution of the tablet surface and how many digital lines fit into 1 inch of the tablet's physical screen. It also means how long you have to move on the tablet for it to detect the stylus nib. The larger LPI a pen tablet has, the quicker it can detect the movements. 
±0.3mm accuracy and 226 PPS further ensure the quality of pen trace capturing.
Ergonomic Design
–Lightweight-designed pen enables a long time playing & drawing
A battery-powered pen will add additional weight to the pen. Usually, you may feel tired after using it in a long time. However, the pen of S620 is a battery-free pen. It doesn't need the battery to offer electricity and delivers you a lightweight digital pen. You can use the pen of S620 in a long time.
–4 anti-slip rubbers ensure the stability of the tablet
GAOMON S620 is designed with 4 anti-slip rubbers on its back to ensure the stability of the tablet. The tablet won't slip away and help you concentrate on your game or drawing process.
–ExpressKeys designed at a proper position delivers a natural drawing posture
Four ExpressKeys are deliberately designed at the left upper side of S620. With the buttons at the left upper side, your two hands won't go close together while drawing. Then, you can draw in a natural posture.
Configuration & Accessibility
Pen Technology
Electromagnetic Resonance (EMR)
OTG function

Enable

Pressure Sensitivity

8192 Levels

Dimension
211×174×8mm
Working Area

165.1x 101.6 mm /6.5*4 inch

Pen Resolution

5080LPI

Accuracy

±0.3mm

Sensing Height

10mm

Report Rate

266PPS

OS Compatibility

Android 6 or above,
Windows 10/8/7,

Mac OS version 10.10 and above.

Hand habit

Right-hander/ Left-hander
GAOMON S620 is compatible with much major design software, such as Photoshop, SAI, Painter, Illustrator, Clip Studio, and more. Synchronize with Adobe Acrobat Reader DC signature Application, satisfied with the need of then digital business signature.
GAOMON S620 is available at GAOMON Official AliExpress Store starting from March 28 and April 27 on GAOMON Official Amazon stores.
About GAOMON
GAOMON TECHNOLOGY CORPORATION is a Chinese-based manufacturer of the pen tablet, pen display, and handwritten input digitizer. Due to its independent research and development of core technology, GAOMON has delivered widely praised digitizer products, eg. USB/ wireless pen tablet, signature Pad, pen display, LED tracing board, to Chinese creative lovers of animation, photography, digital drawing, etc.,  and has been well-known in China since its debut in 2011.  Following GAOMON's firstly releasing of its flexible tablet S56K to global creative lovers in 2016, it has introduced more pen tablets to meet different demands of international creative content artists, including pen tablet, pen display, LED tracing board. Its items can be available on Amazon Official stores including European stores (France, Italy, Germany, The United Kingdom, Spain), North American stores (The United States, Canada ), Asia stores ( Japan) and  AliExpress Official store for other areas.
GAOMON, though, is young, but also energetic and enthusiastic. GAOMON keeps a rigorous discipline while working and believes the devil is in the details. Each question you ask, no matter how subtle, GAOMON team will focus on it and treat it seriously. GAOMON aims to use its well-built products to pave the way for your art road, so that you may walk gracefully and easily.
---
Related
Solutions for FAQs about OTG Function (Connecting S620 to a Phone)?