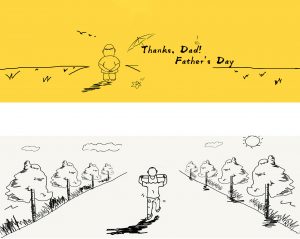 Mother's Day was signed as a national holiday in 1914 and now is celebrated annually on the second Sunday in May. While Father's Day is also celebrated around the world on the third Sunday in June annually. Presidents make public statements on Father's Day. However, do you know when was the first Father's Day in history? How has it been signed as a national holiday? How to celebrate it? This post will give you some advice.
Origin
The first known Father's Day was held in Fairmont, West Virginia, USA, on July 5, 1908. This could be credited to Grace Golden Clayton. In 1896, Mrs. Clayton's father died. And Monongah mining exploded a few miles south of Fairmont on December 6 of the previous year. In missing her own father and wanting to remember the more than 200 fathers died in the mining explosion, Mrs. Clayton asked her pastor, Dr. R. Thomas Webb to held a Sunday service to honor fathers. This event was a one-time event. It didn't become an annual national holiday. Its popularization should be credited to Sonora Smart Dodd and it should thank the establishment of Mother's Day.
The following year, a woman Sonora Smart Dodd started to make Father's Day a U.S national holiday. Her father raised his six children alone on his farm in Washington after his wife died. Dodd thought fathers should be thanked by the same was as mothers when she heard a Mother's Day sermon in 1909. Our fathers indeed deserve a day to celebrate their sacrifice for us. Mrs. Dodd proposed to local churches, shopkeepers, and government officials to celebrate 'Father's Day'. The idea received strong support. Then Washington celebrated its first official Father's Day on June 19, 1910.
Father's Day received widespread soon and spread from state to state in America. Even the establishment of Mother's Day paved way for it, it didn't become a national holiday in over half centuries until President Nixon signed it into law in 1972, declaring that Father's Day should be celebrated annually on the third Sunday in June. It took more than 60 years to make Father's Day a federal holiday. Many have different ideas about what is Father's Day. Some men think this day will remove manliness. Some believe it is an advertising gimmick.
For more, it's a good opportunity to show love to our fathers. As an unknown man said, 'A father is someone you look up to no matter how tall you grow.''
Celebrations
Father's Day is celebrated on the third Sunday in June in many countries, like the USA, Canada, the UK, France, India, China, etc. Father's Day falls on 16 June this year. But it's also widely celebrated on other days. For example, it is celebrated on February 23rd in Russia, which is called Men's Day or Defender of the Fatherland Day. Father is not only referred to our natural fathers. It includes our father figures, such as step-fathers, fathers-in-law, grandfathers, great-grandfathers etc.
We've gotten so many gifts from our dad since our birth. But our father might not get much from us. Father's Day is a good chance to present our love and appreciation to him. Few days are for us to prepare our gifts. You may find it's hard to decide what gifts would get his heart happy. However, you can get inspiration from googling LOL. Don't mind the celebrations popular or outdated, your gift would make your father happy.
Remember to say 'Happy Father's Day, Dad!' to him in a loud, happy voice in the morning. Your father will know you haven't forgotten him. A card is a good choice. You can buy one that fits his personality. For example, a funny car if he likes jokes. You can also make him a card by yourself. It's great to list out the points that you really love about your dad. Some quotes are great too. 'A father's a treasure, a brother's a comfort, a friend is both.'—Benjamin Franklin.
You may make him a meal if you know his favorite meal. You can also give him breakfast in bed to get him more time to sleep. A family dinner is also perfect. Inviting some of his friends or father figures, or other fathers, like uncles, brothers, grandpas, home and do a big dinner party. However, no matter how many events you've arranged for your father, you should respect his own thought. Ask him how he is feeling about all the events. If he was not into what you're doing, don't be frustrated. Please remember all those things you do is to make your father happy. Your father's feeling goes first on Father's Day.
---
Reference
https://www.almanac.com/content/when-fathers-day
http://time.com/4811771/fathers-day-origins-history/
https://www.rd.com/culture/history-of-fathers-day/
https://www.history.com/topics/holidays/fathers-day
https://www.timeanddate.com/holidays/common/father-day
http://www.calendarpedia.com/when-is/fathers-day.html
https://www.wikihow.com/Celebrate-Father%27s-Day
https://vitaminisgood.com/10-innovative-ways-to-celebrate-fathers-day/