Question: I want the cursor being under my pen nib (only on my PD1560 display) not on another monitor when I draw on PD1560 with the digital stylus. But it isn't there.
Reason: This issue happens when you don't select Mirroring Display in Arrangement of Display and set the wrong display as the current one in GAOMON Diver. What you should do is to select the right display, which is PD1560, as the work area in GAOMON driver as you disable Mirroring Display. Please do as following steps.
If you were left-handed, please go to How to Set Left-handed Mode of PD1560 in Mac OS?  to get solutions. The correct way to set left-handed mode will not cause this issue.
For right-handed users, please do as following steps.
Firstly, make sure that GAOMON driver has been recognized by your display.
Connect PD1560 to the computer based on macOS.
Boot the computer and then open the GAOMON Driver Interface
If the driver showed 'Device disconnected' in its lower left corner, please go How to Fix the 'Device Disconnected' of PD1560? If it showed 'Device connected',  please do as the following solutions to set the configuration of displays.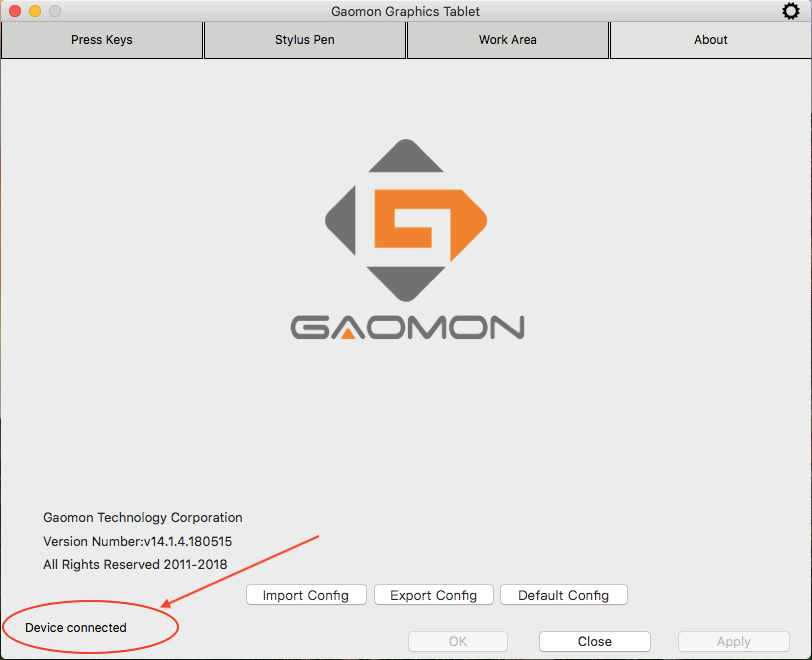 Secondly, to select 'PD1560' as 'Current Display' in GAOMON driver
Precondition: When disable 'mirroring displays' in 'Display', 'System Preferences', it is called to set Extend mode.
Open the GAOMON driver interface and click ' Work Area'.
Select 'PD1560' whose resolution is 1920 x 1080 as 'Current Display' from the drop-down menu of 'Select Current Display'.

Generally, the resolution of PD1560 is higher than that of iMac/MacBook and will be recognized as Display2: 1920 x 1080 in GAOMON driver while in Extension mode.
If you couldn't recognize which one represents PD1560 from the three options: Display1, Display2, All Display, you can go Display1, Display2, and All Displays. Which One Is PD1560? to get instructions.
When you select Mac Monitor as the 'Current Display' and draw on PD1560, there will be no cursor on PD1560, and it is on the Mac monitor.
When you select 'All Display' as the 'Current Display', the Mac monitor and PD1560 will be treated as one display. When you move the stylus on PD1560, the cursor will move both on the two display.
After select 'PD1560' as 'Current Display', please remember to click 'Full Area' and then click 'Apply' to save changes.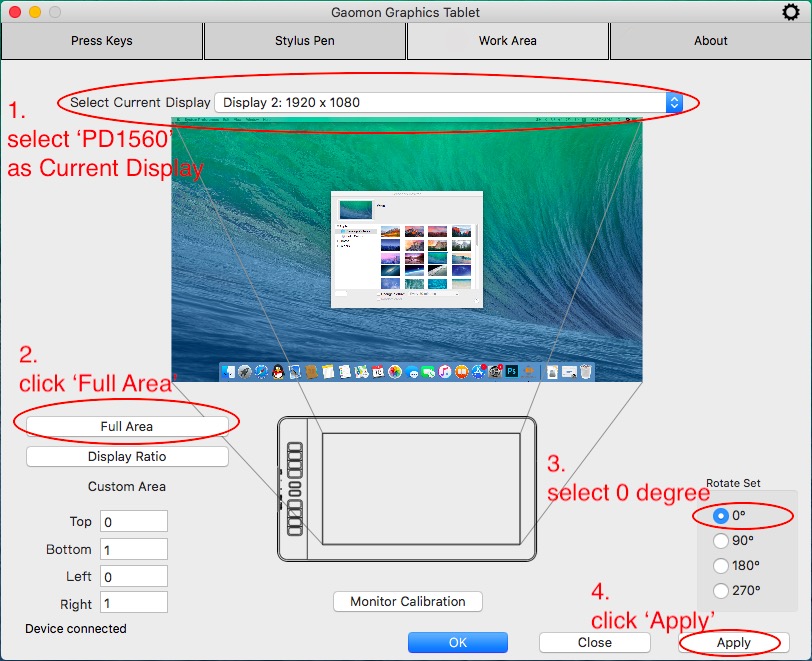 Related Posts:
Cursor Not on PD1560 but on Computer-for Windows System
About Plan and Discount of PD1560 :
---
If this solution failed to help you, please feel free to contact us. We're always here for you. You can submit your issue from here: GAOMON SUPPORT TEAM.