Dear GAOMON friends, here comes our latest driver, GAOMONTablet_MacDriver_14.3.10 (below will be called as v.14) for Mac Users.

Many updates are made to improve the user experience. For example, the methods to set Express Keys become easier than the old one. What you need to do is to press the key to map it on a button (we'll introduce it in another article). A gear is offered for you to uninstall the driver with only one gear-click. It also will help to solve most issues that happened in the older drivers.
Steps to Install V.14
When you are the first time to use GAOMON tablet and you haven't installed GAOMON driver in your computer ever, please do
Step 1: Download Driver
Download the driver: GaomonTablet_v14.3.10(9.6MB). Please make sure you've done it totally;
Step 2: Install Driver
Click the installation package and it will pop out a box like below picture.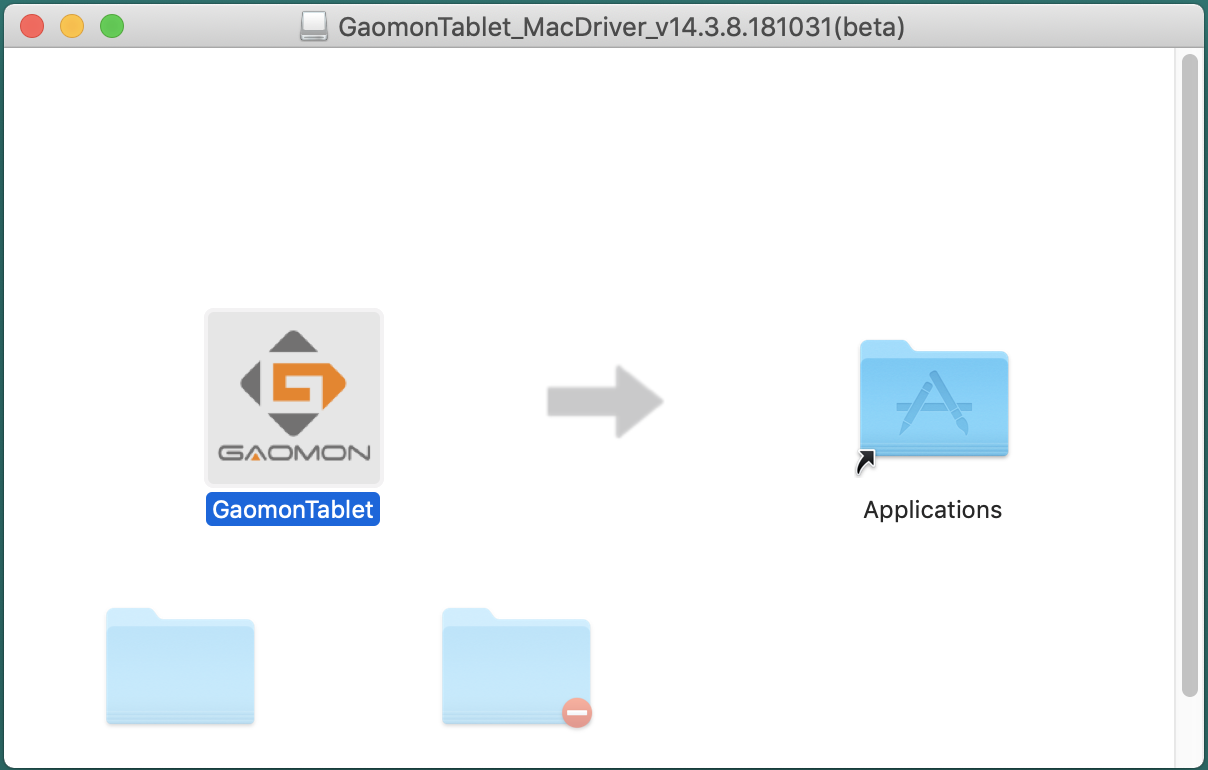 Drag GaomonTablet icon upon 'Applications' and hold on for a while until it enters in 'Applications' folder. You would see it is installing.

Double click 'GaomonTablet' and select 'Open' to run the driver.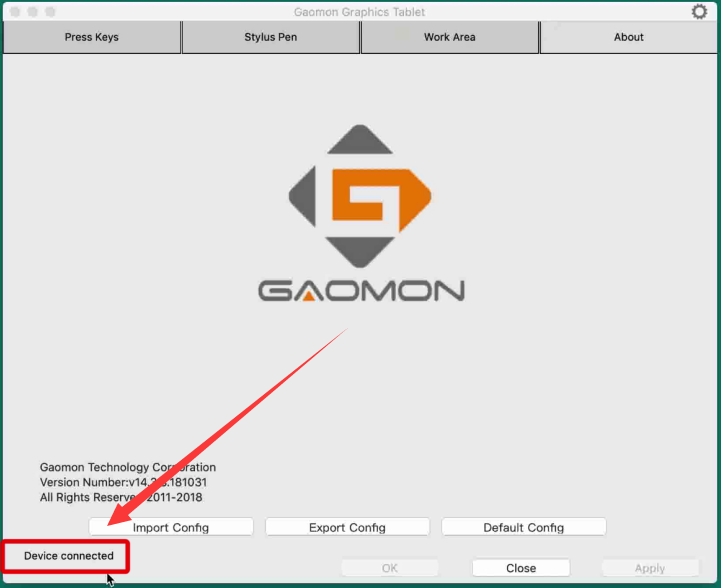 Step 3: Set Up 'Security & Privacy' (Only for macOS Mojave 10.14 users)
ONLY macOS Mojave 10.14 users need to do this step.
Bring out 'Security & Privacy' and put GaomonTablet and TabletDriverAgent into the whitelist of macOS.
There are two ways to bring out 'Security & Privacy'.
Method 1: Use the stylus nib to draw on the tablet, the window of 'Accessibility Access'  might bring out. Select 'Open System Preferences', 'Security & Privacy' will show.

Method 2: Click Apple icon–>select 'System Preferences'–>Find out 'Security&Privacy'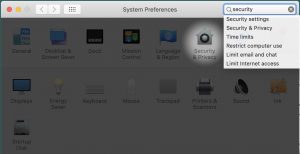 Now 'Security & Privacy' goes out.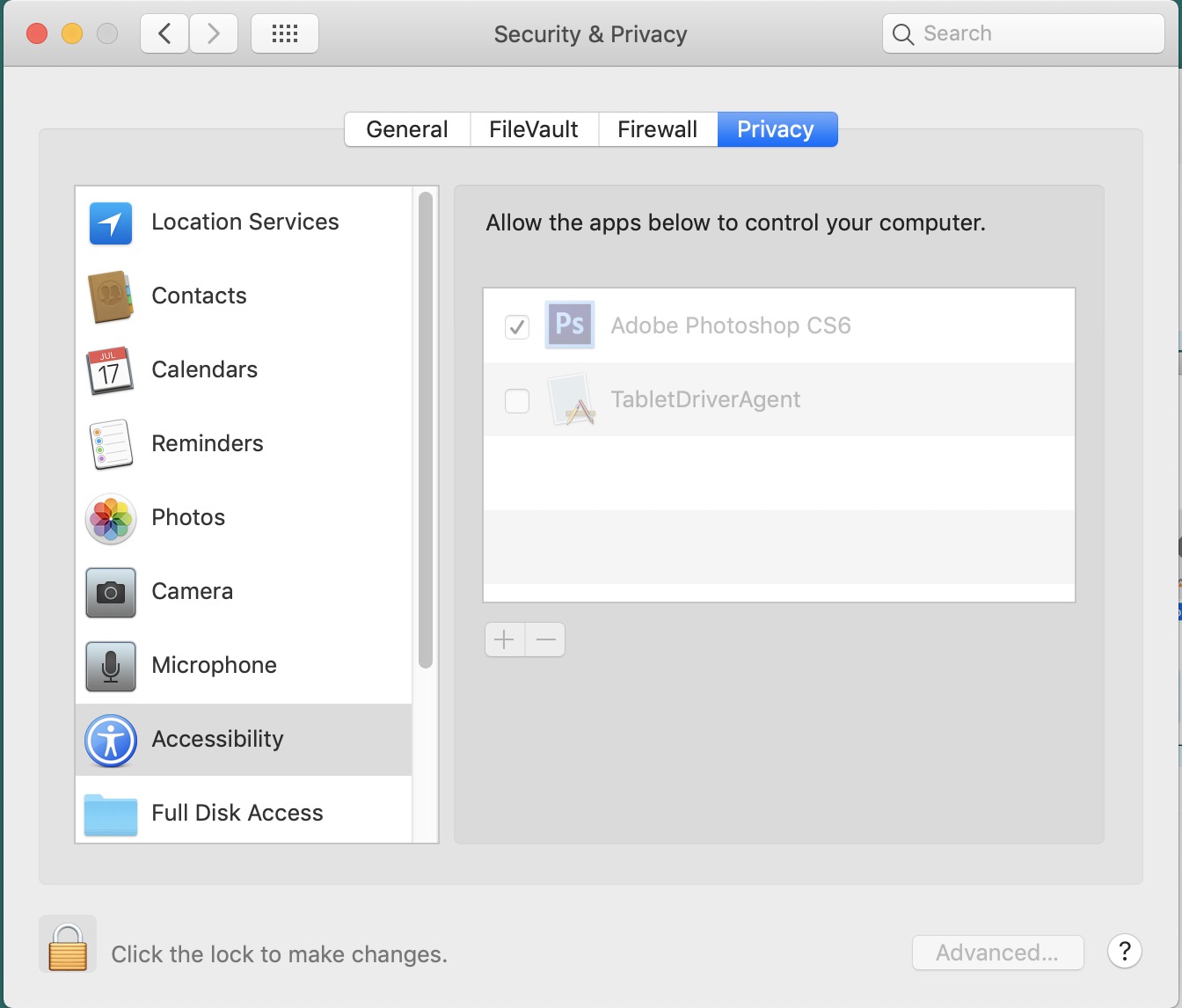 TabletDriverAgent is in the whitelist, but it is not checked. (If it not in, please check ISSUE After Update to v.14 ) And do:
1/ Click the lock icon 

 to unlock and input your password;
2/ Then tick 'TabletDriverAgent';
3/ Click '+' and it will bring out another box.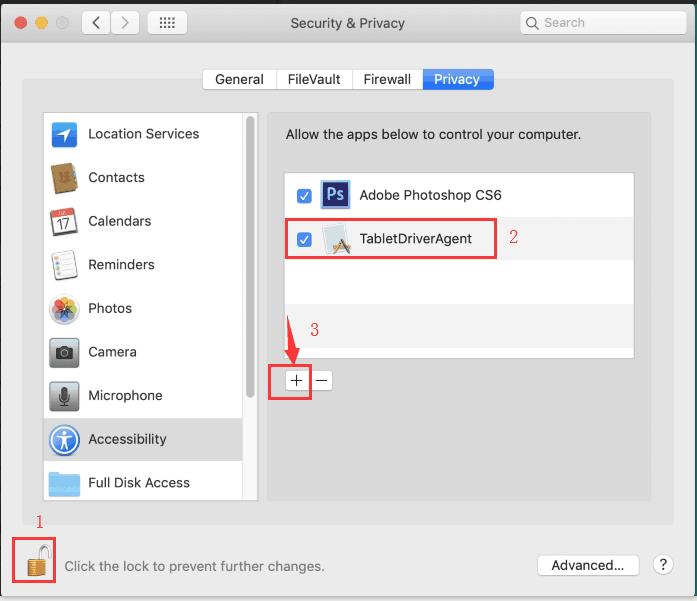 Go Applications–> find out GaomonTablet and click 'Open' to add it into the whitelist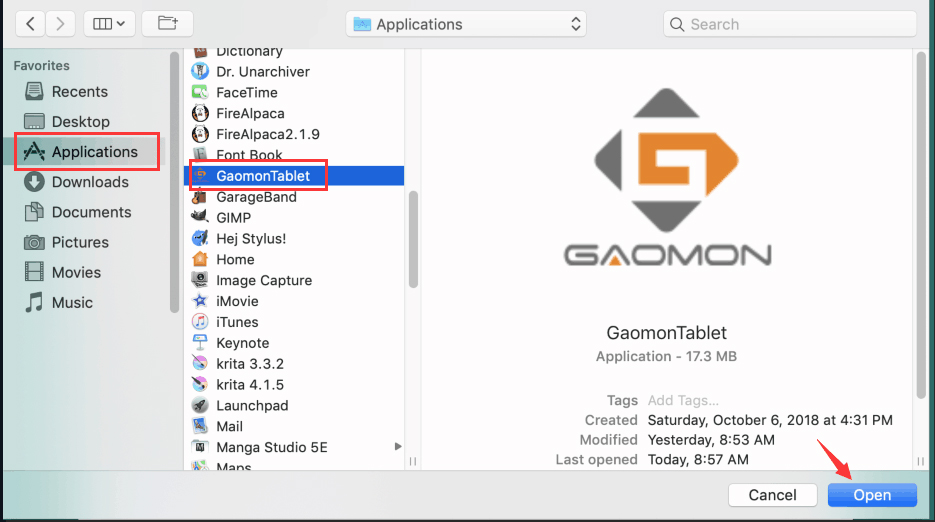 Now GaomonTablet and TabletDriverAgent both in the whitelist.
Tick 'GaomonTablet' circled in red and click the lock icon.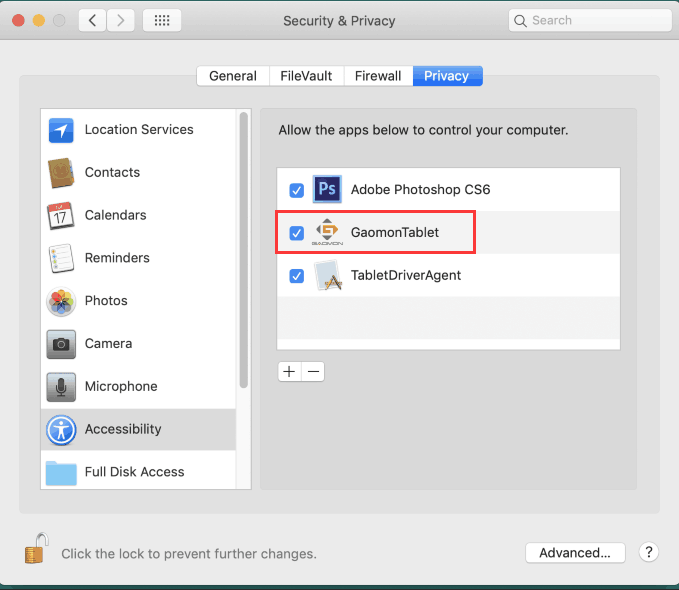 Now, you've finished installing the new driver, v.14. Enjoy it.
Steps to Update From v.13 to v.14
When you are using GAOMON tablet and have installed the v.13 driver, and need to update to v.14, firstly please uninstall v.13 correctly and then install v.14 by below steps.
Go 'Finder'–>'Applications', and find the folder 'GaomonTablet'

Open 'GaomonTablet' and click 'TabletDriverUninstall', then select 'Uninstall Driver'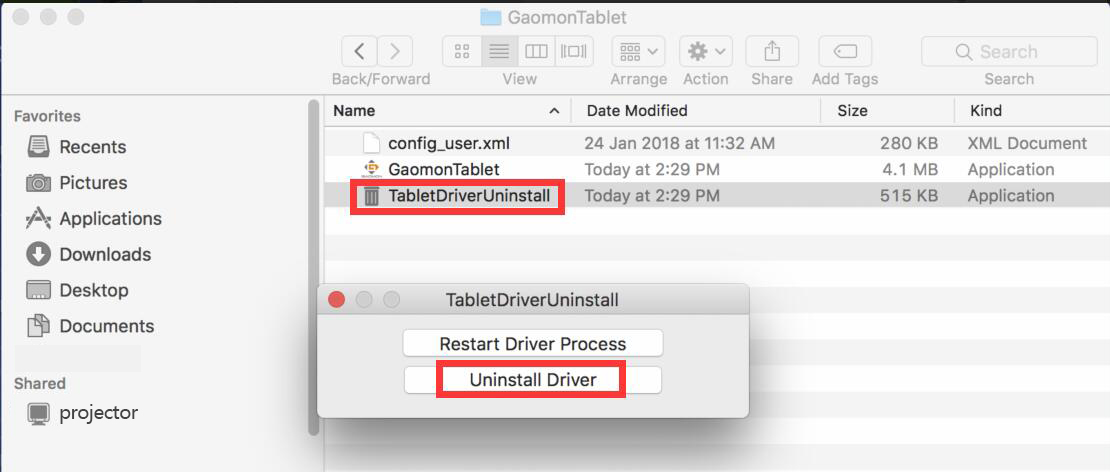 Input your Mac account password and wait for it to finish uninstalling.
RESTART your computer if a box appeared and reminded as below screenshot.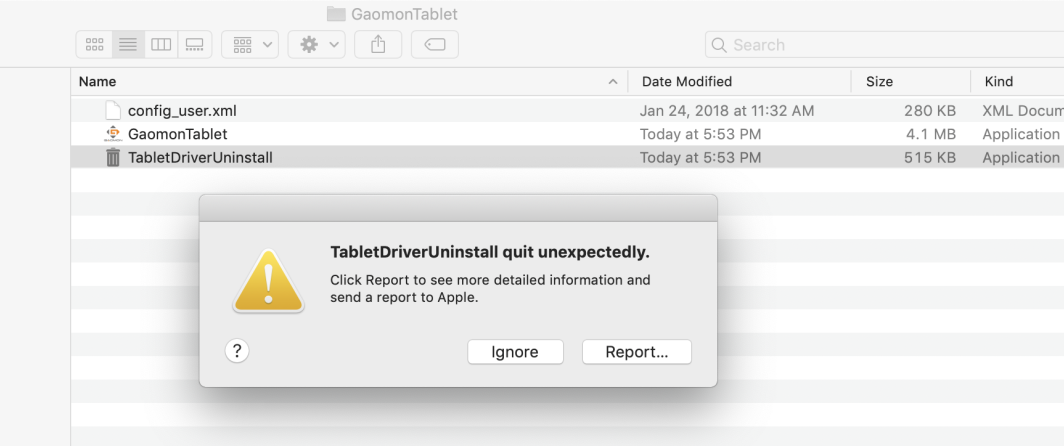 ISSUE After Update to v.14
After updating to v.14 with a wrong way, if you met below issues:
User Interface in a mess
No pen pressure
Don't search out 'TabletDriverAgent' and fail to add it in the whitelist
or other issues. Please uninstall the v.14 driver as below steps:
Click the gear in the upper right corner in GAOMON driver to Uninstall the v.14.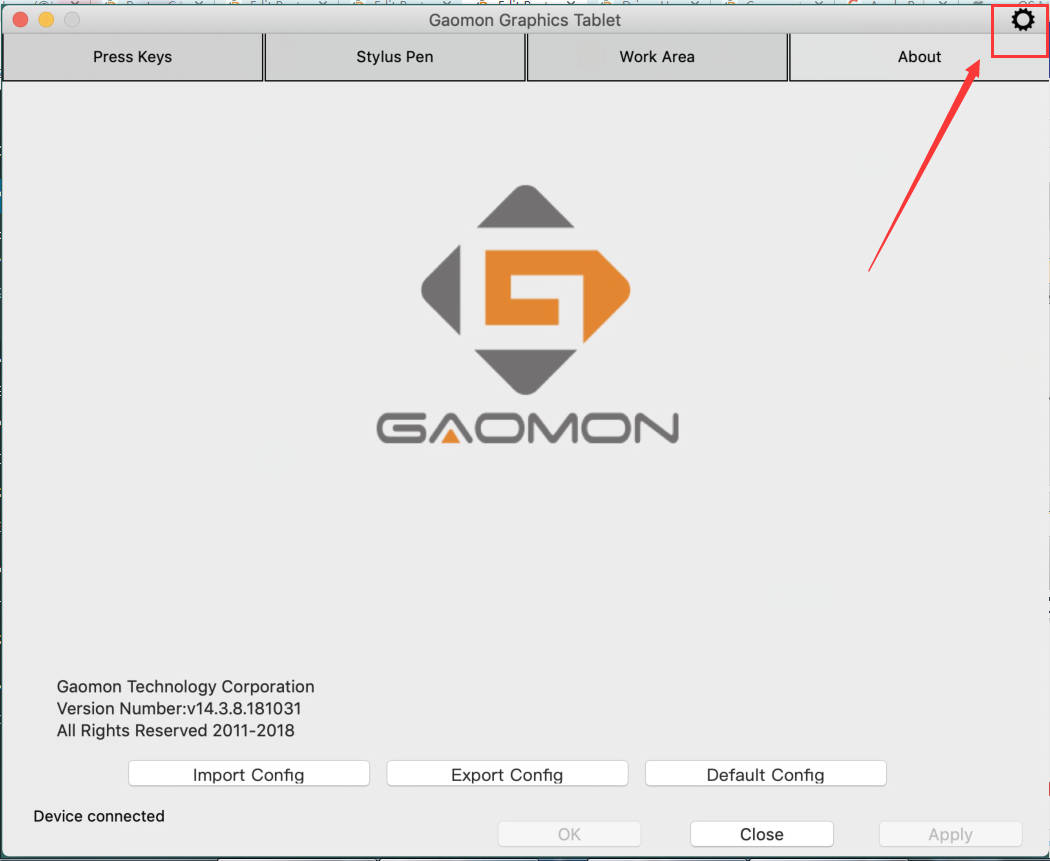 Click Uninstall to unload.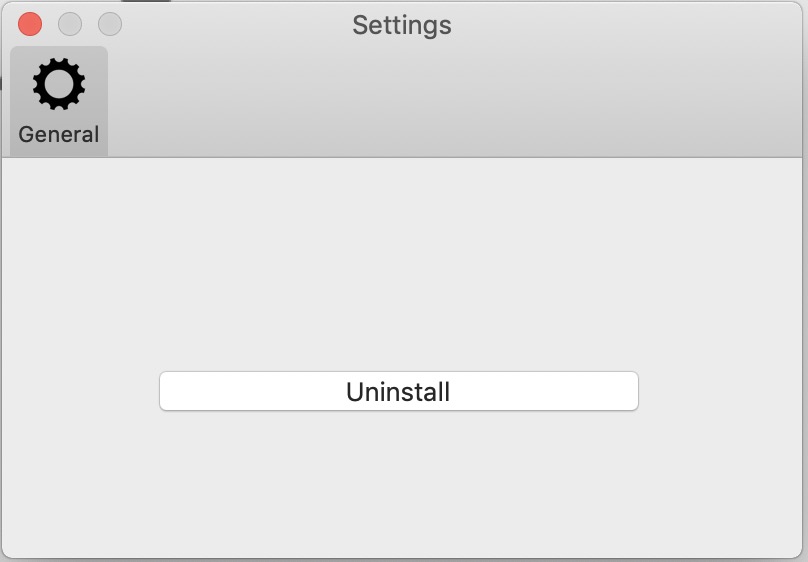 After uninstalling v.14, please delete the installation package and restart your computer
Then install v.14 again by following the first part: Steps to Install v.14
Error: GaomonTablet quit unexpectedly
If the driver reminded 'GAOMON quit unexpectedly' shown as below screenshot, when you click it, no matter which driver version you are using, please do

Video Tutorial: Install and Uninstall Driver v.14
Below is a video demonstration for your reference to install and uninstall Driver v.14.
---
Any suggestions and questions, please feel free to tell us. You can find us from GAOMON SUPPORT TEAM.
Related Posts:
You Don't Have Permission in macOS When Installing Driver
Tablet Not Working in macOS Mojave 10.14
Five Methods to Uninstall Tablet Driver Completely?